Wonkette: It's the 70th anniversary of Pearl Harbor today, a day that has indeed lived in infamy, providing us with our annual reminder that you can all probably take those "never forget" bumper stickers off your cars because human beings are actually pretty good at remembering terrible things that have happened to them, thank you very much.
Shame on us.
###
The war on drugs - epic fail: In order to fight Mexico's criminal drug cartels, Drug Enforcement Administration officials are
themselves becoming criminals
.
###
For Iran to be developing nuclear weapons, it would have to have been prepared to take extraordinary risks. A madman theory, centered around the behavior of President Mahmoud Ahmadinejad, was essential. But as the NIE points out, Iran was "guided by a cost-benefit approach." In simple terms, the Iranians weren't nuts. That is why they didn't build a nuclear program.
So why is this ignored by Obama, Clinton, Biden, Israel? Are they just hopeless warmongers?

###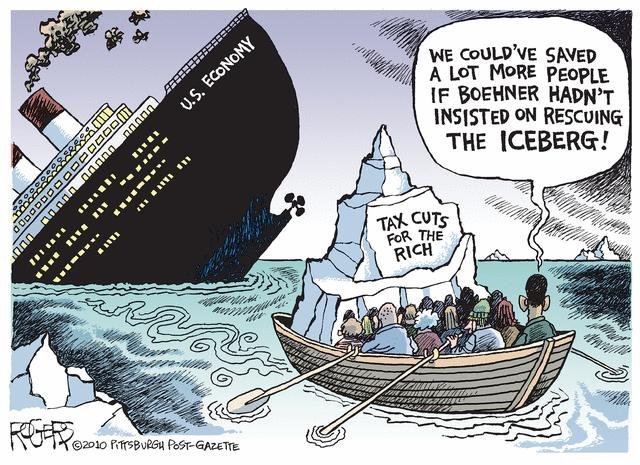 ###
Occupy protesters have set up shop inside Rep. Joe Walsh's office on the Hill, and I effing love this.
About half an hour ago, a group of demonstrators entered Rep. Joe Walsh's (R-IL) office. These protesters asked to meet with the congressman. The Chief of Staff, Justin Roth, said that Walsh was busy and could only meet with them later but offered to meet with the protesters himself. "I think we'll stay," said one protester. Roth shrugged and the protesters sat down and decided to occupy the office until Walsh arrives.
He's a member of the crazy caucus, he's a deadbeat, and he has a really, really short fuse. The perfect asshole to antagonize and target with an Occupy demonstration.
More like this, please!
###
###
Penn Jillette: An atheist's guide to the 2012 election.
###
Why are they always Republicans?
That's a rhetorical question, of course.
The mayor of Medford, NJ resigned a month after he was accused of soliciting sex with a man from the gay escort site Rentboy.com.

In a letter to Medford town manager and clerk on Monday, Chris Myers said that "my work commitments will not allow me to devote the time that is needed in the months ahead. That is why, today, I am resigning from the Medford Township Council, effective immediately."
Interesting definition of "work commitments", bro.
###
Wisco
: GOP insiders panic about Gingrich
###
Rick Perry Hates You An Extra Lot
"Just when you thought Barack Obama couldn't get any more out of touch with America's values, AP reports his administration wants to make foreign aid decisions based on gay rights. This administration's war on traditional American values must stop. I have proposed a foreign aid budget that starts at zero. From that zero baseline, we will consider aid requests based solely on America's national security interests. Promoting special rights for gays in foreign countries is not in America's interests and not worth a dime of taxpayers' money.
"But there is a troubling trend here beyond the national security nonsense inherent in this silly idea. This is just the most recent example of an administration at war with people of faith in this country. Investing tax dollars promoting a lifestyle many Americas of faith find so deeply objectionable is wrong. President Obama has again mistaken America's tolerance for different lifestyles with an endorsement of those lifestyles. I will not make that mistake." -
Rick Perry
.
###
###
Through its little-known "1033 program," the Department of Defense gave away nearly $500 million worth of leftover military gear to law enforcement in fiscal year 2011 — a new record for the program and a dramatic rise over past years' totals, including the $212 million in equipment distributed in 2010. [...]

Passed by Congress in 1997, the 1033 program was created to provide law-enforcement agencies with tools to fight drugs and terrorism. Since then, more than 17,000 agencies have taken in $2.6 billion worth of equipment for nearly free, paying only the cost of delivery.
The Cobb County Georgia police force has its own amphibious vehicle. Cobb County is hardly a municipality loaded with crime — it's very well-educated and affluent. So why the heavy machinery?
In Minnesota, the Washington County sheriff's department, "received grants to buy a 3-foot-tall, $70,000 robot and a $75,000 riverboat." A robot?
Of course the program seriously ramped up after 9/11.
I swear, every time I read shit like this, I can't help but to think the terrorists won. We're a nation of Barney Fifes with shoulder-mounted grenade launchers stashed under our tear-stained pillows.
###
### 
###
###
Bastards
: Japan used $30 million in tsunami disaster funds for whaling
###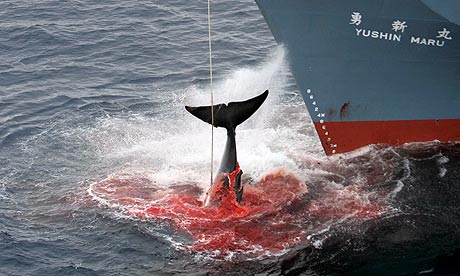 ###
###
"Reasonable" conservatives' latest crush (Huntsman) goes wingnut:
"[T]here is — there are questions about the validity of the science, evidenced by one university over in Scotland recently. I think the onus is on the scientific community to provide more in the way of information, to help clarify the situation."
Ha ha, you stupid gullible bastards.
###
The theory of "trickle down economics," which holds that greater wealth at the top generates jobs and income for the masses below, drew some of Obama's harshest criticism.

"It's a simple theory — one that speaks to our rugged individualism and healthy skepticism of too much government. It fits well on a bumper sticker. Here's the problem: It doesn't work," Obama said of supply-side economics, drawing extended applause. "It's never worked."



###
The South Fulton Fire Department made national news last year after they refused to put out a house fire due to an unpaid fire subscription fee, and it appears that policy has not changed. Homeowner Vicky Bell watched her home burn to the ground on Monday while firefighters stood behind her looking on.
The people inside city limits pay taxes, which cover their fire protection. The ones outside don't, which is why the $75 fee was imposed. If they don't want to pay for the services, they aren't entitled to them. Still, it's pretty shitty to see firemen stand there while a house burns down. And how much did that cost?
###
The Post Office didn't die, it was murdered:
Neither snow, nor rain, nor heat, nor gloom of night will keep your postman from delivering that Mad Men

DVD

you've been waiting for. But legacy labor costs and the disruptive force of the Internet? Yeah, that'll do it.

Today, the Postal Service announced roughly $3 billion in service cuts that will slow down the delivery of first-class mail for the first time in 40 years. Starting in April, it plans to shutter more than half of its 461 mail processing centers, stretching out the time it will take to ship everything from Netflix DVDs to magazines. One-day delivery of stamped envelopes will all but certainly become a thing of the past.

The announcement is just the latest sign of a sad and increasingly dire fact: the Postal Service is in shambles. This past fiscal year, it lost a mere $5.1 billion. In 2012, it's facing a record $14.1 billion shortfall and possible bankruptcy. In order to turn a profit, Postmaster General Patrick Donahoe says the agency needs to cut $20 billion from its annual budget by 2015. That's almost a third of its yearly costs.

How did it come to this? The culprits include the Internet, labor expenses, and, as with pretty much every problem our country faces now, Congress.
This was a planned homicide:
At the very end of that year, Congress passed the Postal Accountability and Enhancement Act of 2006 (PAEA). Under

PAEA

, USPS was forced to "prefund its future health care benefit payments to retirees for the next 75 years in an astonishing ten-year time span" — meaning that it had to put aside billions of dollars to pay for the health benefits of employees it hasn't even hired yet, something "that no other government or private corporation is required to do."
So when rural Americans start screaming because the mail isn't coming, they can go blame their "fiscally conservative" Congresscritter.
###
W. D. Boyce is remembered as the founder of the Boy Scouts of America. If elected President, Newt Gingrich may be remembered as the founder of the Junior Janitors of America.
###
If Obama, can find the nuts to actually follow through on this
(NYT link)
, we might be able to find some enthusiasm to re-elect him: "But in the long term, we have to rethink our tax system more fundamentally. We have to ask ourselves: Do we want to make the investments we need in things like education, and research, and high-tech manufacturing? Or do we want to keep in place the tax breaks for the wealthiest Americans in our country? Because we can't afford to do both. That's not politics. That's just math." Of course Republicans don't believe in things like math and science, so that's going to fall on deaf ears.
###
Because only rich people need protection...
The White House does not have the Senate votes necessary to confirm Richard Cordray as the head of the Consumer Financial Protection Bureau. Senate Republicants made it clear yesterday they will filibuster Cordray.
###
Wonkette:
Historic, amazing, truly heartwearming stuff yesterday out of the State Department, as Hillary Clinton delivered a beautiful speech in which she pledged to tie American foreign policy to a broader definition of human rights, making the latter one and the same with gay rights. The Advocate has a good wrap-up of some of the more feel-good bullet points from her speech, such as: "This recognition did not occur all at once. It evolved over time. And as it did, we understood that we were honoring rights that people always had, rather than creating new or special rights for them. Like being a woman, like being a racial, religious, tribal, or ethnic minority, being LGBT does not make you less human. And that is why gay rights are human rights, and human rights are gay rights." We also appreciate the nod Ms. Clinton gave to the ongoing struggle for gay rights here at home, because when we first saw the President's memorandum yesterday we thought it was a bit odd that a man who has said he's "still working on" how he feels about letting domestic gays get married would start talking big game about international gays, but Hillary went out of her way to say that "we, like all nations, have more work to do to protect human rights at home," so, you know, hooray for self-awareness.
###
Tony Perkins discovers true meaning of Jesus: Capitalism is awesome
In honor of #OccupyCongress and the "Take Back the Capitol" movement that officially began today in Washington and the patient citizens who put up with lawmakers who hid from them and tried to have them arrested for seeking — GASP — meetings with their representatives, we will now enjoy a hearty chuckle at one of the finer wingnut op-eds in recent memory, a topical essay from one of the Lord's most comically insane self-appointed flaks, Family Research Council overlord Tony Perkins. His brave thesis? "Jesus was a free marketer, not an Occupier." Woah! Did Jesus finally email Tony Perkins back to go on record that all his "sell your possessions and give them to the poor" crap was just some weird inside joke he had going with the disciples? READ MORE »
###
Charles Pierce:
Stuff in Politico That Makes Me Want to Guzzle Antifreeze, Paul Ryan Edition
I think that, maybe, it's time for Beltway journalists to pack up the ol' kit bag and go out to where actual human beings are trying to carve out lives for themselves, because a lot of what they're doing seems to be taking place on Neptune.
I have engaged in hundreds of sterile, yet informed, arguments about who should make the Baseball Hall of Fame, and who should be awarded the Heisman Trophy, and who should win the Oscar for Best Supporting Actor. Some of those arguments I won, and some of those arguments I've lost. But I've never argued for, or lost to, the position that the Baseball Hall of Fame should be napalmed into the earth, or that the Heisman Trophy should be permanently eliminated in favor of an andiron for which America's major college programs should be allowed openly to bid, or that the Oscars should be canceled in favor of a bid-'em-up contest on QVC. But those are precisely the forms into which Paul Ryan would like to transform America's health care.
Politico's "Healthcare Policymaker Of The Year" is the author of a plan that would have 85-year old Alzheimer's patients bidding for themselves against the insurance companies. Much of an American presence as Ryan may have had this year, policymaking this is not. He is the author of a plan that would pretty much have Grandma dying in the streets. His plan has been rejected both by responsible members of the budget oversight community, the Congress, and by most any electorate that's had half a chance to vote on it. But it will keep people from saying mean things about Politico on the radio, so I suppose humiliating yourself is well worth it.
Just, please, sell yourself at a higher price.
###
Today, thousands of protesters are expected to converge on K Street in Washington today, taking aim at the influence of lobbyists in Washington. The actions are part of a week of activities planned by "Take Back The Capitol," which is being organized by a coalition of community and labor groups allying themselves with Occupy D.C.
###
Millions of Seniors Saving Money on Prescription Drugs, Thanks to the Affordable Care Act
###
H/t Dick: For
this
, we're destroying Social Security.