###
###
4,436 soldiers have been killed in Iraq; 1,475 in Afghanistan.
In case anyone cares.
###
Tom Tomorrow has a history lesson from the Tea Party.
###
Thanks to increased carbon dioxide levels, the pH of the ocean is dropping faster than expected. But Al Gore is fat, which means climate change is a myth.
###
Your tax dollars hard at work....
CIA officers who were involved in cases of wrongful imprisonment, mistreatment and even detainee deaths have often avoided serious punishment and in many cases been promoted within the agency, an investigation by the Associated Press has found.
###
The only thing Republicans didn't slash was the budget deficit
Almost nothing was spared in the GOP's target list, including the Centers for Disease Control, the FBI, job training, alternative energy research, and green jobs initiatives. In fact, the only thing that was actually spared was the budget deficit, because while the GOP targeted 70 different programs, they only managed to shave $23 billion in spending: http://www.dailykos.com/storyonly/2011/2/9/942320/-The-only-thing-Republicans-didnt-slash-was-the-budget-deficit
###
Orrin Hatch, Teabagger - Orrin Hatch, that fiery, barn-storming man of action, is trying to align himself with the Teabaggers by attending their televised town hall meeting and circle-jerk. Crickets ensued. Then Bachmann-the-Nut entered the room to thunderous applause. Hatch must be having visions of his fellow Utahistan senator Bob Bennet. (AP)
###
Fracturing the Coalition
###
As noted above, Lee was among the U.S. House members who voted to retain DADT. His position on other LGBT rights such as same-sex marriage appears to be unknown at the moment.
###
###
The Teabagger's Guide for Children
###
Here comes the socialism!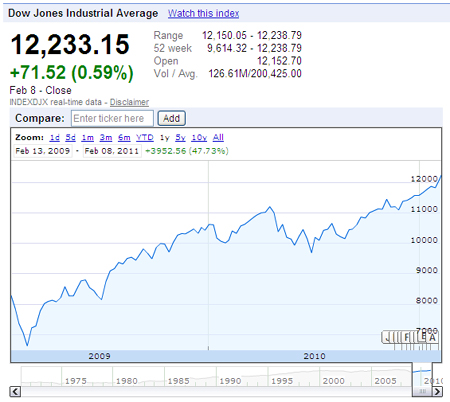 That's the DJIA between February 9, 2009 and February 9, 2011. Two years of an obviously anti-capitalist administration.
Meanwhile, the Dow is up for a seventh consecutive session. The wingnut conspiracy theory that President Obama hates capitalism is an hilarious display of utter dumbstupid and batshit insanity.
Remember when Hannity was referring to the Dow as the "Obama Bear Market?" Take another look at the above chart, Hannity, and bite me.
And in a capitalist-related story:
Great jobs (and discrimination) in Kentucky!
Wow, Ken Ham has been touting all the jobs his Ark Park will bring into Kentucky, and he's already advertising. Isn't that great? Look what opportunities are available:
Job Opportunities in the United States:

Constituent Data Administrator (CDA)
Guest Services Coordinator
Public Safety Console Operator
Senior Database Administrator (Senior DBA)
Video Editor/Animator/VFX
Web Developer--Python
Zoo Keeper
Ark Encounter Jobs
That's a diverse assortment of jobs, and they just have one thing in common. One little bitty catch.
All job applicants need to supply a written statement of their testimony, a statement of what they believe regarding creation and a statement that they have read and can support the AiG statement of faith.
So, you get to manage a database or shovel llama shit, as long as you have Fundamentalist Jesus in your heart. That goes even for those jobs at the Ark Encounter, where they are begging for state subsidies while insisting that it isn't really a religious ministry. If it isn't, why do all the employees have to swear an oath to worship Jesus precisely as Ken Ham demands they do?
###
Good Morning America, February 8:
George Stephanopoulos: "But you had inspectors in the country [Iraq]. Why was it necessary to invade–"

Former defense secretary Donald Rumsfeld: Saddam Hussein "had thrown them out about the second or third or fourth time."
Really, Donald? You claim Saddam Hussein threw out the weapons inspectors in 2003 which was further justification for the U.S. invasion of Iraq?  Not so, you miserable, stinking, murderous liar.
Fact Checker has the story on when and how the inspectors left the country. They did so at their own volition after being pressured by the Bush administration to leave. It is no coincidence that the inspectors were reporting at the time that there were no weapons of mass destruction to be found and that Hussein was cooperating with the inspectors.
Fact Checker awarded Rumsfeld it's top 'honor' – Four Pinocchios.
Rumsfeld writes in his just released memoir, Known and Unknown.
"Powell was not duped or misled by anybody. Nor did he lie about Saddam's suspected WMD stockpiles. The President did not lie. The Vice President did not lie. Tenet did not lie. Rice did not lie. I did not lie. The Congress did not lie. The far less dramatic truth is that we were wrong."
Four Pinocchios? A life sentence behind bars would be a more appropriate award for this duplicitous villain.
Oh, the irony. The Politico interviewed several GOP representatives who opted out of their Congressional health care plans, and discovered they're all having second thoughts about that whole 'repeal and replace' thing. If it's not the cost of individual insurance that's getting them steamed, it's the pre-existing conditions.

...
Welcome to our world, assholes.
###
###
###
###
###
Fill it up with nothing at all
More WikiLeaks Fun: Saudi Arabia Is Running Out of Oil, Fast