###
Rev. Mark Sandlin proposes sending donations
to LGBT causes
in the name of North Carolina's Pastor Charles Worley.
Not only will it be a wonderful opposing response to Pastor Worley, but it does several other wickedly beautiful things.

One

, it helps fund organizations who are actively working against this kind of exclusion and bullying.

Two

, it puts Pastor Worley on their mailing lists!!! And,

three

, it can really show Pastor Worley and others what creative, non-violent resistance looks like – and

that's

biblical.
###
###
Someone had to do it?
-
Senators Bernie Sanders and Barbara Boxer have introduced a bill that would forbid Bankster Bastards from being on the board of the Fed, where they get to regulate themselves, and give themselves low-interest loans. Currently, the bill is not up for debate in the Senate. Jeebus, Harry Reid...(
Politico
)
###
### 
It turns out spending large sums of money to purchase grossly-offensive billboards along the Eisenhower Expressway in Chicago which compare those who believe in climate change to terrorists is not the best way to convince people that climate change is a hoax, nor is it the best way to manage your not-unlimited funding. And in the case of the Heartland Institute, it may have cost them their entire operation.
During his closing remarks at the Heartland Institute's Seventh "International Conference on Climate Change," Heartland President Joseph Bast revealed that the group has no plans to hold another conference and is struggling to pay its staff following the defections of corporate sponsors in the wake of the disastrous Unabomber billboard campaign and Deniergate document dump.

"I'm not a good fundraiser," Bast admitted to the crowd today in Chicago as the gathering wound down.

Bast appealed directly to the crowd for donations, saying that "if you've got a rich uncle" [ask him to donate to Heartland].
I won't call this a victory because climate change denial is a very big problem and some of the biggest deniers are sitting members of congress, but in a world where an increasing number of people are convinced that climate change is real if for no other reason than witnessing radical weather themselves, this kind of outrageous smear campaign is going to become not just ineffective but also a liability to climate change deniers.
###
Free Guns (Honestly!)
No, really. This is both unintentionally hilarious and horrible.
via Media Matters
Right-wing news site The Daily Caller has come up with an innovative new method of attracting people to sign up for their email updates: Each week through Election Day new registrants will be eligible to win a free handgun. And not just any handgun; the weapon in question is "engraved with the Bill of Rights."

The gun's manufacturer, Jim Pontillo, has attacked American progressives for supposedly seeking to promote communism in America and claimed that "people calling for secession" are not "fanatics who hate America" but are instead acting "in the Founding tradition."

This ad is currently running on the website's NRA-sponsored "Guns and Gear" page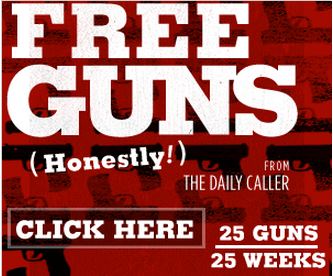 In exchange for signing up for Tucker Carlson's email newsletter, you'll be entered to win a free handgun, inscribed with the bill of rights, manufactured by a man who believes threatening to secede from the union is a "founding tradition." Yeehaw!
Of course these newsletters contain all manner of hyperbolic assertions and language designed to incite hatred for the government, so pairing that with a free "2nd amendment remedy" makes sense.
###  
Mitt Romney debuted a fresh line of bull today, promising 6 percent unemployment by the year 2016. The only problem is the Congressional Budget Office has already projected a 6 percent unemployment rate by 2016 under the current administration's policies.
Mitt Romney, who often chides President Obama for presiding over unenployment rates above 8%, told TIME that he would get that number down to 6% as president.

Oddly enough, that's almost exactly where the Congressional Budget Office predicts unemployment will be at the end of the next presidential term. While hardly the most reliable number this far out, CBO's latest report sees unemployment dropping to the low-sixes in 2016 en route to about 5.5% unemployment by the end of 2017.
You can always count on Mitt Romney to dream big and take the first step into explored territory. To boldly go where other men have gone before.
###
So the Pakistani guy who tried to help catch bin Laden is in jail, but the Pakistani guy who helped Libya try to get the bomb, and may have done the same for Iran and North Korea, is free.

Glad to see our billions spent every year on Pakistan are going to good use.Read the rest of this post...
###
The Iowa Democratic Party Hispanic Caucus on Wednesday urged Republican National Chair Reince Priebus to publicly denounce Rep. Steve King (R-IA) for comparing immigrants to hunting dogs. Read More
###