###
A judge revoked bond today for George Zimmerman, the neighborhood watch captain charged with second-degree murder in the shooting death of a Florida teenager in his gated community, and ordered him to surrender himself in 48 hours.

Prosecutors had filed a motion today to revoke his bond, accusing Zimmerman of "deceiving" the court about his finances and his possession of a second passport, which he apparently acquired two weeks after the shooting.
More explanation
in the story
. It appears that someone considered Zimmerman a flight risk after all.
So all that money the wingnut losers donated to Zimmerman landed his stupid lying ass in jail. Love it.
UPDATE:
Very nice catch on the passport problem
by commenter BeccaM
. Thanks.
###
David Cay Johnston looks into the government handouts around a $250 million project to revitalize a mall that should have never been built:
When the Monroe County industrial development agency gave [developer] Congel's plan initial approval I asked for its due diligence. The county provided a thin report stating that if taxpayers finance the restoration Medley Centre's sales would grow from $30 million annually to $420 million.

The report cover states that Congel commissioned it. Judy Seil, director of the agency which gives money to companies, confirmed that Congel paid for the report. Still, she insisted, the report is the county's due diligence.

That's how corporate socialism works. The poor may have to pass a drug test to get benefits but rich applicants write their own ticket.
The whole thing is worth a read.
###
Even with today's disappointing and troubling jobs report, private sector job creation under President Obama has far exceeded private sector job creation under President Bush. 40 months into his presidential term, there are currently more private sector jobs in the economy than when Obama came into office. At the same point in President Bush's term, the total number of private sector jobs was still down 1.7 percent from where it began.
The numbers are even starker when measuring each president's record from the moment job creation returned. Private sector job creation returned in February of 2010, the 13th month of President Obama's term. Since then, the economy has added 4.3 million private sector jobs, a 4 percent increase.
Under President Bush, the economy stopped shedding private sector jobs in July of 2003, fully 30 months into his administration. From that point until May of 2004, the economy added just 1.5 million private sector jobs, an increase of only 1.4 percent.
But there is one area of job creation where President Bush clearly outshines President Obama: the public sector. Public sector employment is now down 608,000 workers since January 2009, a 2.7 percent decline. At the same point in President Bush's term, public sector employment was up 3.7 percent. If, over the past 40 months, public sector employment had grown at the same pace as it did in President Bush's first term, there would be 1.4 million additional people at work right now. That'd be enough to bring the unemployment rate down by nearly a full percentage point.
###
In the statement from Friends of Nan Hayworth, the campaign defended Townsend's comments, saying that he was speaking as a private individual and not a campaign staff member (which he also is):
This is a manufactured controversy by a campaign operation that has, for months, hurled offensive rhetoric and imagery at Nan Hayworth on various Facebook pages, including the one mentioned today.[...]

The comment receiving the attention was not made on behalf of the Congresswoman or her campaign and was clearly not meant to be taken literally. Meanwhile, this morning's dismal employment report proves yet again that the Becker campaign is doing all it can to distract attention from the real issues that mean everything to the future of our Hudson Valley. [...]

It's not too much to insist that the media responsibly analyze context and perspective rather than simply broadcast hysterical and irresponsible attacks from a campaign that is purely seeking to score political points against a Representative who has a consistently strong and positive record as an advocate for every citizen she serves.
Campaign manager Bruce Harvie also pointed out to ThinkProgress that the moderator of the Facebook thread on which Townsend's comment was originally ridiculed is a paid staffer for their opponent's campaign. He said similar comments were posted by opponents of Hayworth's — and pointed out one comment suggesting that Nan Hayworth be thrown in a pot of boiling oil — but none of those comments were covered by the press, or called out by the moderator.
However, the campaign could not point to a comment by a paid staffer that was as violent or sexist as Townsend's remark.
After dipping during the Great Recession, corporate profits have now skyrocketed past their pre-recession levels, Business Insider's Joe Weisenthal notes. After-tax profits and corporate profits as a share of gross domestic product (GDP) are now higher than they were in the middle of the last decade, after a similar vertical spike. Despite massive profit gains, however, corporations are adding more jobs overseas than they are in the United States and paying one of the lowest effective tax rates in the developed world.
###
"Here's what you and your minions don't understand, O'Reilly. Your hell doesn't scare me. I make my living watching Fox News eight hours a day. I'm already in hell." —Jon Stewart, responding to Bill O'Reilly after the Fox News host said he was going to hell.
###
Tax exempt Family Research Council cheers Exxon
###
National Catholic Register twists itself into knots in a bizarre defense of the Dolan pedophile payoff scandal.
Consider this: Suppose you are walking down the street and a homeless person approaches you and asks you for some money. You give him the money. Would that justify a headline saying that you have been paying the homeless? Or suppose you were with your teenage son or daughter and they asked if they could give some money to the homeless person as an act of kindness and you said Yes. Would that justify a headling saying that you authorized paying the homeless? Or maybe you send your grandchild $20 for his birthday, because he's at that age where he's hard to buy for and what he really wants is money. Have you paid your grandson? Not all disbursements of money constitute "paying." Gifts, grants, charitable donations, and other forms of transferring money from one person to another do not automatically count as "paying."
Were the situation not so grotesque, the above would be laughable.
###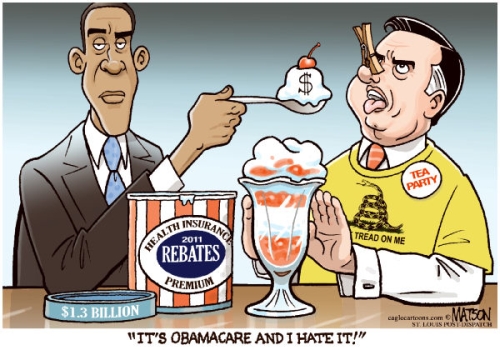 ###
During Mitt Romney's "secret" press conference outside the former offices of Solyndra yesterday, he claimed the inspector general admitted that the Obama administration had steered money to friends and family. And that would be news to the rest of the world, because that's not actually what Inspector General Friedman said. It was a lie.
ROMNEY: "An independent inspector general looked at this investment (Solyndra) and concluded that the administration had steered money to friends and family – to campaign contributors."

THE FACTS: There is no proof – and it appears unlikely – that Energy Department Inspector General Gregory Friedman was talking about Solyndra when he testified in March 2011 about stimulus contracts. Friedman said his office was investigating whether such contracts were steered to friends and family, presumably of government officials in charge of spending stimulus money. Romney cited a Newsweek article that referred to Friedman's testimony.

But Friedman did not say that such claims had been proved, and there is no evidence he was including Solyndra in his comments. The testimony came nearly six months before the company declared bankruptcy. And there is no evidence that family members of top federal officials received any favors. Friedman's office is among several federal agencies that are investigating Solyndra.
Six months before the Solyndra witch-hunt became a thing, the inspector general listed allegations his office was investigating which did not specifically include allegations against Solyndra.
Team Romney simply chose to associate the inspector general's words with Solyndra, even though the inspector himself was not referring to Solyndra.
The Romney campaign has to lie. He has to say anything. Running on the record as it stands isn't an option.
###
GOP votes for polluted water
The U.S. House voted to approve a rider in the energy and water appropriations bill today aimed at removing protections for America's rivers, lakes, and streams.
Washington, D.C. — Today the U.S. House of Representatives voted against Clean Water Act protections for streams, lakes, and rivers across the United States. The House majority voted to keep a Dirty Water Rider in the House's Energy and Water Appropriations bill, which would expose 60 percent of our country's streams and at least 20 million acres of wetlands to toxic pollution and threaten the drinking water of 117 million Americans. The Dirty Water Rider was introduced by Rep. Denny Rehberg (R-MT) in an effort to block the Obama administration from protecting waters of the United States, making it easier for polluters to dump their waste into our waters.
If you're going to vote to approve a bill that may expose the drinking water of 117 million people to toxic pollutants, I suppose Friday is the best time to do that. You know, so no one will notice.
Fortunately, it's unlikely this will become law. And like the transportation bill that has yet to see the light of day, we can expect the House of Boehner to sit on their hands from now until the next session of congress.