Sarah Palin is the leading presidential candidate among low-income Republicans, according to Gallup polling data, while Mitt Romney tends to attract more support as voters move up the income ladder.
White trash sticks with its own kind.
###
"In the wake of the killing of Osama bin Laden President Obama's approval rating jumped to 56 percent, his highest in two years. Which shows there is literally nothing he can do to please the other 44 percent." –Seth Meyers
....

"Sarah Palin said Obama should stop 'pussyfooting around' and release the photos. Yes, because the guy who ordered the SEALs into a sovereign country without permission and killed public enemy number one is a pussy, and the woman who quit her job as the governor of a state with no people after half a term and won't do an interview with anyone but Greta Van Susteren is a bad-ass. Right." –Bill Maher
###
"Stop saying 'we' got Osama. 'We' didn't do anything. 'We' were watching 'Celebrity Apprentice' and eating Funions in our sweatpants. Seal Team 6 did the killing, with money we borrowed from Beijing; that our grandchildren will have to pay back. So it was a joint Navy Seals/People's Bank of China/grandchildren operation." –Bill Maher
###
Religion. It brings people together to find excuses to leave people behind.
###
Vatican beatifies John Paul II as patron saint of ignoring problems until you die
I think Benny the Rat got this ball rolling to hint that HIS child-raping ass should also be beatified.
###
###
"Mikveh" this, you idiots
For the decisionmakers at Der Tzitung.
Deceit's only okay when you do it, right?
###
Sudden Jews
Glenn Beck hanging around Israel, wearing Yarmulke
As part of some quest to search for meaning in his life in the wake of losing his teevee conspiracy show, Mormon comedy sensation Glenn Beck is wandering around the homeland of the Native Americans, Israel. This is all being breathlessly chronicled by The Blaze, Beck's news-esque webzine. (BREAKING: Glenn ate some ice cream.) "'It's the axis point of the world,' he explained by phone as he outlined the agenda that triggered this trip." Uh, what? Also, aren't the North and South Pole the axis points of the world? Nothing about this makes any sense. Nothing. READ MORE »
###
Senate Republicans Vow to Gut Consumer Financial Protection Bureau
Why don't Republican voters see what these bastards are doing?
### 
Aging grifter MILF Mooselini has a restraining order against a teen-age boy and his parents. "He is described in court documents as a former ardent supporter of Palin and as having mental problems." That sounds about right. (MSNBC)
###
David Shuster broke this news early this morning:
Bush family encouraging Jeb to run for President in 2012. Family/surrogates also taking steps to muddy GOP field for possible Bush entry.
The caliber of delusion is astonishing. American voters are batshit crazy, but I can't imagine enough of them voting for another Bush given, you know, everything.
###
Over the weekend, Dick Cheney and other Bush apologists resurrected their exhaustively debunked claim that their policies -- including and specifically torture -- kept us safe since 9/11.
Of course, this is a huge bucket of horseshit. There was only one attack by al-Qaeda on the mainland of the U.S. during the Clinton administration, after which they "kept us safe" for the remaining eight years without torture and other similar policies. And if we're talking about cumulative non-war-zone attacks by al-Qaeda, here's a convenient chart from The Economist: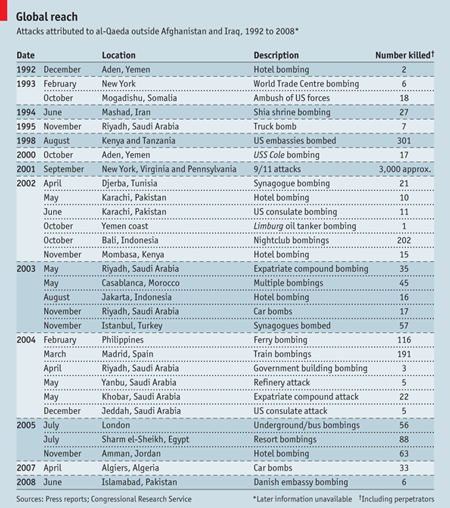 Check out the number of al-Qaeda attacks during the Clinton years and the number of attacks during the Bush years. Way to go, Bushies!
Furthermore, the Bush administration admits to using waterboarding between 2002 and 2005 when it discontinued the practice. So if it was so effective, why didn't KSM give up Bin Laden's location while being waterboarded 183 times in a single month?
And finally, I'm still waiting for a conservative to show me an interrogation/intel expert who believes waterboarding and other harsh methods are more effective than standard interrogation techniques. Waiting...
###
###
When people use the word "Floridiot" they're talking about people who make stupid laws like this. It's going to be a painful period for Floridians who were on the losing side of recent elections. This is just nuts.
###
Americablog: I'm confused about something.

GOP House speaker John Boehner now is claiming that "ending a subsidy" is actually "raising taxes."  For example, if we cut the monstrous subsidies that Bil Oil has been receiving for far too long, that's actually "hiking taxes" on Big Oil.

Really?  So welfare reform was really a huge tax hike on the poorest of the poor?

And that also means that the Republicans proposed a huge tax hike right before Christmas when they tried to cut off unemployment benefits to hundreds of thousands of Americans, and cut off a pay raise to 4m active duty and reserve troops.  Remember, to cut off a subsidy is to raise taxes.  So the GOP was proposing to tax our troops, and tax the unemployed, right before Christmas no less.

If Boehner wants to play this game, let's play it.  A lot of listen to great radio and television thanks to a subsidy to the CPB.  Boehner wants to cut that subsidy, so I guess he's proposing a tax hike for public broadcasting.  And a tax hike for Planned Parenthood.
His Republican budget would also leave up to 44 million more low-income people uninsured as the federal government cuts states' Medicaid funding by about one-third over the next 10 years. Cutting subsidies for Medicaid sure sounds like a tax hike to me. 
### 
###
The state of Florida has gone off the deep end.
###
From the Department of Obvious Conclusions:
TOKYO — Japan will scrap a plan to obtain half of its electricity from nuclear power and will instead promote renewable energy and conservation as a result of its ongoing nuclear crisis, the prime minister said Tuesday.

Not that we can afford to make fun of the Japanese, of course. If (when) a similar nuclear-power accident happens here in America the Exceptional, a large percentage of our political class will insist that what we must do first is double down on tax subsidies for multinational oil/gas/coal companies, give a few billion dollars to Blackwater/Xe to investigate the possibility that the accident was the result of terrorist activity, and incidentally pass new laws limiting reproductive freedom and/or gay marriage, because 27% of the voting population believes Jeebus has radioactively smote us for our freedom librul wickedness.
On a more cheerful morning note, this is a great story on resilience in the face of tsunamis and other tragedies.
###
John Cole: Fiscally conservative fee fees.
###
Conservatives who bet heavy against the auto industry, and lost, take another unearned victory lap.
###
Another necessary step on the road to peace in Israel and Palestine. "An investment firm has sold the first ever bonds from a Palestinian borrower. ... The transaction raised $70m for the Palestinian Development and Investment Co, with the money coming from Palestinian and Jordanian banks. ... The proceeds will be used towards building a new power plant as well as a tourism centre on the West Bank. ... The move comes amid tentative steps towards a planned declaration of an independent Palestinian state later this year. ... The Palestinian Authority (PA) has been encouraging private companies to issue bonds, and plans to sell some itself, according to Prime Minister Salam Fayyad. ... "The Palestinian Authority is determined to build the foundations of an independent state," said Mr Fayyad."
Gaza blockade begins to crumble. "Egypt has announced that it will open its border crossing with Gaza on a permanent basis, thereby reversing Egypt's collusion with Israel's blockade regime. The interim Foreign Minister, Nabil al-Arabi, has described support for the blockade by the previous Egyptian regime as "disgraceful". While Israeli officials have responded to this announcement with alarm, they have limited capacity to undermine the new Egyptian government's prerogative. ... Since the capture of Israeli soldier Corporal Gilad Shalit in June 2006, the Rafah crossing has been closed to Palestinians in Gaza, except for "extraordinary humanitarian cases". In June 2007, after Hamas' ousting of Fatah, Israel imposed a naval blockade on Gaza and sealed its five border crossings with the territory. Egypt's closure of Rafah made the siege comprehensive, and effectively cut off the 360sq mile Strip from the rest of the world. ... The devastating impact of the blockade on Gaza's 1.5million population, where food aid dependency has risen to 80 per cent,  has been defined as a humanitarian crisis by a broad range of international human rights and humanitarian aid organisations - including Human Rights Watch, UNRWA, Amnesty International, and the World Health Organisation. ... Under the presidency of deposed leader Hosni Mubarak, Egypt only opened the Rafah border in response to exceptional crises, including during Israel's Winter 2008/2009 offensive against Gaza and in the aftermath of Israel's fatal raid on the humanitarian flotilla in June 2010. Rafah's closure demonstrated Mubarak's shared interest with Israel in undermining Hamas' leadership."
###
http://www.balloon-juice.com/2011/05/10/thin-skinned-billionaires-0-activists-1/
###
Why can't I have an enterprising mind like this?
Remember, folks, according to Harold Camping, there are only 11 shopping days until the Rapture. Book your pet care now!
###
####
Just add the "k" between the "c" and the "o" and be done with it. "[Bill]Nye [the Science Guy] was in town to participate in McLennan Community College's Distinguished Lecture Series. He gave two lectures on such unfunny and adult topics as global warming, Mars exploration, and energy consumption. ... But nothing got people as riled as when he brought up Genesis 1:16, which reads: "God made two great lights - the greater light to govern the day and the lesser light to govern the night. He also made the stars." ... The lesser light, he pointed out, is not a light at all, but only a reflector. ... At this point, several people in the audience stormed out in fury. One woman yelled "We believe in God!" and left with three children, thus ensuring that people across America would read about the incident and conclude that Waco is as nutty as they'd always suspected."
###
Big Coal wants you to know it really, really cares about the children who are negatively affected by breathing the air around coal-fired power plants by giving them free Dora the Explorer inhalers. This is not from The Onion.
###
###
Wonkette: Where 1% Controls 40% of Wealth & 25% of Income, Donald Trump Is Loved
###
Baja Arizona trying to divorce wingnut Arizona.
###
Drudge sirens: Arab man on plane got angry or something
The conservative Internet has uncovered UNMISTAKABLE EVIDENCE that The Muslims of America are planning to set aside their Sharia checklist for a moment to avenge the death of Osama bin Laden. On Sunday, some guy from Vallejo, California on a flight from Chicago to San Francisco went nuts, screaming and pounding on the cockpit door, according to the Associated Press. This is something that happens on airplanes! People do weird things! Flying is freaky for a lot of people! In the same article, the AP notes another guy on another flight Sunday tried to open the plane door of the aircraft he was on. But that second guy isn't of Arab descent, so the MUSLIM WATCHERS are only freaking out about the first one. READ MORE »