'Pro-Life' Republican
Kansas Governor Guts Funding For Dying Infants
###
Mario
: Republicans – On The Wrong Side of Science
###
###
Tom Coburn says our black president likes programs that "create dependency" because they helped him
Translation:
"Obama's a ni**er and you know how ni**ers love free handouts."
Okies eat that racist shit with a Texas-sized spoon - no wonder they re-elect Coburn every term.
It's the same mentality that sends Jim Inohofe back to Washington every term
...and Obama has spent almost three years trying to get these cavemen to like him?
###
###
Now hiring (over there) - You know all that money that US multinationals want to repatriate at near zero tax rate? Well it comes from their overseas operations. So who are these companies and employees over there? No one is allowed to know!
Some of the country's best-known multi­national corporations closely guard a number they don't want anyone to know: the breakdown between their jobs here and abroad.

So secretive are these companies that they hand the figure over to government statisticians on the condition that officials will release only an aggregate number. The latest data show that multinationals cut 2.9 million jobs in the United States and added 2.4 million overseas between 2000 and 2009.
And that's why they need a tax break to reward their bad behavior. (WaPo)
###
Winning the Future -
South Dakota adopts a 4-day school week to cut costs. Because when you want to return America to being a world leader, you have to hobble the next generation by cutting education to pay for tax breaks for billionaires. (
AP
)
###
 ###
###
I couldn't have said
this
better myself. 
###
###
Determined to destroy the economy and Obama's chance for reelection, Ohio Gov. John Kasich (R)
refuses
millions in unemploymnet funds from stimulus bill. 
###
Fed gave $1.2 trillion to aristocracy of American finance:
Bloomberg
. 
###
###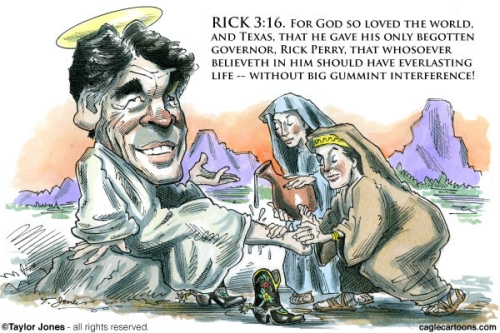 In other news, Rick Perry would like for you to forget everything he said in his book which was published only nine months ago, and the scientists behind the infamous "Climategate" emails have once again been exonerated of any wrong-doing by the National Science Foundation.
### 
Former Massachusetts Gov. Mitt Romney would beat President Obama if an election were held today, according to a Gallup poll released Monday. Romney leads Obama 48-46 among registered voters. Obama is tied with Texas Gov. Rick Perry, and leads Reps. Ron Paul (TX) and Michele Bachmann (MN) by two and four points, respectively.
###
McCain and Graham pout U.S. didn't get to drop enough bombs on Libya
Aging lesbian power couple John McCain and Lindsey Graham are excited to hear about what appears to be the final collapse of the Qaddafi regime in Libya, although Sartorial Satan is still in hiding and Tripoli is not yet under full rebel control. Team McHamBiscuits nonetheless have an important nonsense neoconservative reflection on the whole saga: "we regret that this success was so long in coming due to the failure of the United States to employ the full weight of our airpower." So sorry! to Libya, that the U.S. was not more involved in your conflict. U.S. military intervention in foreign conflicts is historically a top choice for fast conflict resolution, so really just a huge apology if Libya feels it missed out on that. Can John McCain still get some of Libya's money, though? READ MORE »
###
Wisco: It's Come to This: Republicans Want to Raise Taxes on Consumers
###
### 
"That's so baloney. Rich people don't create jobs. Companies create jobs. [...] You probably pay a higher rate than I do… and yet my income is probably many times what yours is." Henry Bloch, founder of tax preparation company H&R Bloch
Yep, the reality that Republicans don't want you to know about. Rich people pay a lower effective rate than you. Even though they complain about the (staggeringly low) 35 percent tax bracket, no one in that bracket actually pays that rate. Warren Buffett, as I recall, pays around 17 percent. And if there are, in fact, rich people paying 35 percent, they need to fire their accountants.
I'm really thinking that the far-right wants to reverse the progressive tax. Poor people in higher tax brackets than rich people. Bloch and Buffett have both confirmed that rich people pay a lower effective tax rate than less wealthy people. And I'm sure by now you've seen the Jon Stewart segment in which he aired clips from Fox News Channel people crying about poor people not paying taxes (due to unemployment, etc). The only time Republicans appear to support higher taxes is when they're talking about working and middle class people.
###