From Democratic strategist Bill Buck writing at CBS
:
But the source coming to Harry Reid for these revelations adds a level of intrigue. Reid just happens to be the highest-ranking member of the Mormon Church in the history of this nation.

It is likely that Senator Reid's source shares the Mormon religion with Reid and Romney.

That message will not be lost on Romney. If the Bain fortress is not a fortress; if people are talking, Romney knows that trouble lies ahead.

And the motivation for this leak may not be political. It is likely personal and tied to the Mormon Church.

Specifically, if Romney was hiding money from the IRS he may have hidden money from his church.

It is expected that members of the Mormon Church tithe a minimum of ten percent of their incomes. But if Romney was not paying taxes and hiding money, then his disclosure – which itemizes deductions, including to the church – would tip off his actual income to the IRS.
####
Mitt has decided to postpone any information that might inform voters about his past, his judgement and what he might do as President. He is especially fearful that releasing any details about his record or policies would inspire Democrats, the Obama Campaign and the media to criticize him and ask even more questions.
This is why he will not release his taxes. So far he has only released part of his 2010 Income Tax forms and he will not release any details about his 2011 Income Taxes until after October 15th.
Mitt sees this policy of secrecy and delay as a winning strategy. This is why he has decided to apply the same tactic to his selection of a running mate. The Romney Campaign announce today that the choice has been made, but will remain a secret until after October 15th.
Reaction from the Obama Campaign and Democrats was swift and mocking. Senate Majority Leader Harry Reid claimed that he was told by a credible source that the guy under the bag was just Tim Pawlenty. The Romney Campaign is pushing back hard on Democratic speculation concerning the identity of his running mate. In a press call earlier today, they condemned comments from Senator Reid as union-thug politics and demanded that Reid "put up or shut up" when it comes to Romney's number two.
""I've already learned from Harry Reid's action and others that the people on the other side of the aisle will try to go through anything we give them to distort it to turn it, to turn it into something they don't say and to try and make political fodder out of it."
To help hide his identity,
The Unknown

GOP VP

Candidate
, will use a voice distortion device to give his Tampa Convention speech and to campaign in the fall.
Jennifer Rubin (a blogger for the Washington Post) called the selection another Romney triumph and a stroke of brilliance. The Unknown GOP VP Candidate has been embraced by Tea Party members and other rank and file conservatives. With the urging of Rush Limbaugh they have taken to wearing bags over their heads as a sign of support and the Romney Campaign is selling sacks with eye holes to raise funds for the campaign.
####
In case there was any doubt the Republican Party is run by fools who never matured past 13 years of age:
The Republican National Committee (RNC) sent the Democratic National Committee (DNC) a birthday cake on Friday,

The cake read "you didn't bake this" over a picture of President Obama. Text written in icing reads, "Happy birthday, Mr. President." The cake marks the occasion of the president's birthday, which is Saturday, with a play on the "you didn't build that" controversy.
As always, the GOPers have nothing real to run on so they're reduced to juvenile stunts. I'm sure the 27%ers found it hilarious. High fives all around. But I rather liked the Dems response:
[T]he Democrats sent the cake back.

"This is typical of Mitt Romney's approach to the middle class," DNC spokeswoman Melanie Roussell told The Hill. "He wants to 'Let them eat cake!' while robbing them blind. We sent the cake back to the RNC, along with a copy of the Tax Center's report on Mitt Romney's tax plan."
In any event today is President Obama's birthday. Wishing him a grand celebration and many blessings on his way to the next one.
###
Wingnuts, are you guys okay? Free Republic? Free Beacon? Daily Caller? Anybody home? Should we alert the Med-Alert people that your lifelines have run out of batteries, and you have fallen and you can't get up? Because World's Awesomest Gymnast Gabby Douglas has a mom, and she did the Black Power salute, and you have yet to freak the fuck out about it.
The closest thing we could find, in fact, is this Debbie Schlussel column tut-tutting about black women being racist for not liking Douglas's hair. (Everybody knows that only black people can be racist.) Where's the outrage? Where's the treatise on Reverse Racism and the New Black Panther Party and Eric Holder and flerba merba yglerba DEEEEERRRRRRPPPP? READ MORE »
###
So it turns out that the business owner in that dumb Romney ad about the fake "You didn't build that" line, and who it turns out actually did rely on government loans and contracts for some of his business, now haz a sad because some people have been calling and emailing his business to say mean things about him. Jack Gilchrist, owner of a metal fabrication company in Hudson, New Hampshire, appeared in the ad, above, whining about being "demonized" by the President for being successful, which of course rather badly misses the point.
Gilchrist is a self-made man whose wholly self-built business merely happened to receive over $1 million in loans from state and federal government programs, and continues to rely on defense contracts for about 10% of its business. But, you see, that is absolutely NOT hypocrisy, because he is just looking out for himself: READ MORE »
###
'Christian' Pastors Who Want To Overturn Hate Crimes Act Will Have To Put Their Stones Where Their Mouths Are
So there are three "Christian" pastors who wanted the courts to invalidate the Matthew Shepard and James Byrd Hate Crimes Prevention Act because "thought crimes," so they filed suit with the total asshole Thomas More Law Center, saying basically "WAH, Orwell and stuff! Animal Farm! Two legs bad! We will not be able to urge the stoning of homosexuals as prescribed in Leviticus!" and the court was all "yeah, idiots, you do not have standing to sue to overturn this law unless you are actually wanting to drag a man behind your car? You do not actually want to drag a man behind your car, do you? You just want to say hateful shit? STILL PROTECTED, and you got no standing to sue." (The court did describe the "Christian" pastors' speech as "hateful" before noting that about two thirds of the country was at that precise moment standing in line at Chick-fil-A and stuffing the word in the memory hole.) (That's right bitchez, we got yer Orwell hanging!)
Take it away, Talking Points Memo!
But the appeals court found that the plaintiffs had "not alleged any actual intent" to cause bodily injury to any gay individuals, pointing out that the pastors explicitly denounced "crimes of violence perpetrated against innocent individuals."

The Hate Crimes Act, the appeals court ruled, "does not prohibit Plaintiffs' proposed course of hateful speech" and said they "can't quite pinpoint what it is they want to say that could subject them to prosecution under the Hate Crimes Act." [Editor's note: an updated version of the opinion removes the word "hateful" from the opinion, but a cached version makes clear that the original opinion included the word "hateful.")

Even if they quoted Leviticus 20:13, which called for men who have sex with one another to be put to death, "they have not alleged any intention to do more than merely quote it," which wouldn't be unlawful under the Hate Crimes Act, the appeals court ruled.

"If the Hate Crimes Act prohibits only willfully causing bodily injury and Plaintiffs are not planning to willfully injure anybody, then what is their complaint? Plaintiffs answer that they fear wrongful prosecution and conviction under the Act. Not only is that fear misplaced, it's inadequate to generate a case or controversy the federal courts can hear," the appeals court ruled.
You know who else got put to death in Leviticus? EVERYONE. For EVERYTHING. Like, "Sassed your mom? Sassed your slave owner? Cut your beard and whatnot? Ate a lobster? Didn't finish your peas? THAT'S A STONING!" Good times, Leviticus. Good Christian times.
Better luck next time, bigots!
[TPM]
###
Take a good look at this Fox News Channel chart showing what will happen to the top marginal tax rate if the Bush tax cuts expire at the end of the year.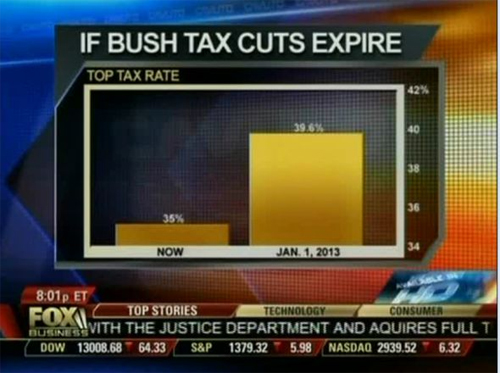 Holy shit! The top bracket will explode!
Actually no. Check out the numbers on the right side of the graph. The margin is only four points but up-close the margin looks gigantic. To correct the record, Media Matters created a more realistic graph showing a zero-39.6 percent spread.
While I'm here I'd like to repeat: if any rich person really pays 39.6% as their effective tax rate, they should fire their dingus accountant for gross incompetence.