Andy Borowitz: "Obama has been a pretty good President when you consider he wasn't even born here."
###

###
Douchebag Orrin Hatch on the Senate floor speaking of fedoras and lattes.
From a comment on the internets: "And in November, President Obama will be wearing that hipster fedora and knocking back the double skim latte as he cruises into the White House for four more years."
###
Rush Limbaugh Calls Woman 'Slut' and 'Prostitute' For Wanting To Testify About Contraception
###
Guess what the GOPers fishing trip probe of failed solar company Solyndra has cost us? It's hard to say, but just the staff salaries alone it is already $1.6M. (Politico)
-Headline of the Day-
"Does Rick Santorum Have a Problem With the Ladies?"

I know it's hard to believe, because he's got all the moves of a white Smoove B, but Rick Santorum may not be connecting with the fairer sex. And by "may not be," I mean "isn't."

You'd think they'd like all that stuff about how they should stay at home and have emotions and have babies and never have birth control or college educations, but they don't. It's a puzzler. According to the report, "A Michigan exit poll showed former Massachusetts Gov. Mitt Romney garnered support from 43 percent of women voters compared to 38 percent for Santorum. With Romney notching such a narrow victory there, the margin among women is enough to be the difference. A poll taken a week before the Arizona contest showed women picking Romney over Santorum by a 2-to-1 margin."

Rick's plan so far is to talk about his wife and his mom a lot -- I guess to prove that there are women out their who can stomach love him. If that doesn't work, expect campaign ads with soft music and candlelight. "C'mon over here and let me talk some sweet, sweet capital gains tax cuts, bay-bee. Boom chaka wow-wow..." (US News)

###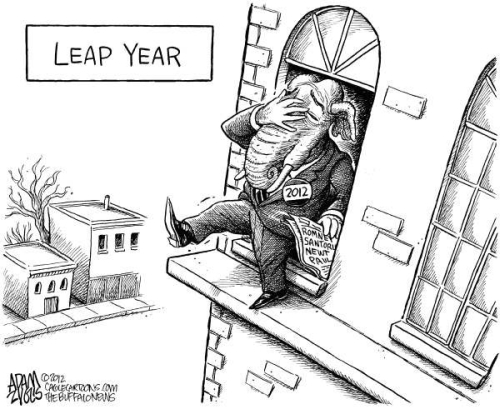 You can tell the president thinks the GOP candidates, and Mitt Romney in particular, are a total joke. It's visibly noticeable.
I'd love to be a fly on the wall when the president meets with Axelrod and Messina behind closed doors, although the laughter can probably be heard from the next room.
###
The Largest Medicare Fraud in History…
Only four women appeared as guests on the Sunday shows. Media Matters with the sad tally:
A total of 56 guests were booked on the Sunday programs to discuss national affairs in February. Of those, 52 were men. (The newsmaker tally does not include guests invited to participate in roundtable discussions this month.)

And of the four women booked this month, just one, Secretary of State Hillary Clinton, was associated with the Democratic Party, despite the fact Democrats currently control the White House and the Senate. "We complain about this all the time," a Democratic aide told Media Matters.
Good thing the issues of birth control, women's healthcare coverage and abortion never came up this month.
###
Reminds me of Jay Banta:
###
It's weird watching the pop culture icons of your youth start to depart, and I think my generation is more ill-equipped than most to wrap what's left of our minds around it, for it reminds us that we are next in line. Paul McCartney is still rocking at sixty-nine, and the ridiculousness that is Mick Jagger is still strutting at the same age. The Beach Boys have patched things up with their mercurial genius Brian Wilson and will be doing a 50th anniversary tour this summer, hopefully not singing "Be True To Your School" at Mike Love's advanced age of 71. But there has to be something between the ridiculousness of rock stars who are now senior citizens by anyone's definition still parading around on stage the way they did forty years ago, and the vast parade of those who survived into their 50's and 60's but still left too soon of sudden heart attacks -- Jerry Garcia...John Entwhistle...Paul Butterfield...Roy Orbison...Alex Chilton...and now Davy Jones, all of whose deaths show that there really is such a thing as too old to rock 'n' roll and too young to die.
###
###
10 BIG QUESTIONS FOR CONSERVATIVE REPUBLICANS!
###
Keep it classy!
Federal Judge Sent Joke Email Implying Obama's Mother Had Sex With Dog
.......
Wisconsin Republican Senator Proposes Bill That Labels Single-Parenthood As Child Abuse
Wonkette: "Well now we know how to stop child abuse in the Catholic church; just force all those priests to get married."
###
###
How does one scrape by when the payout is only $350,000 per year? Like others, I've always been impressed with the compassion and humility on Wall Street. This article doesn't get into it, but deep down we all know how appreciative Wall Street is for being saving from crashing on the rocks. They all are thankful for having their lifestyle saved, even if they now have to clip coupons and send their kids to public schools. A few great excerpts by The Atlantic from the Bloomberg article about lifestyles of the down and out on Wall Street.

"I feel stuck," [director of marketing for broker-dealer Euro Pacific Capital Inc. Andrew] Schiff said. "The New York that I wanted to have is still just beyond my reach." How so? "Paid a lower bonus, he said the $350,000 he earns, enough to put him in the country's top 1 percent by income, doesn't cover his family's private-school tuition, a Kent, Connecticut, summer rental and the upgrade they would like from their 1,200-square- foot Brooklyn duplex." "People who don't have money don't understand the stress," said Alan Dlugash, a partner at accounting firm Marks Paneth & Shron LLP in New York who specializes in financial planning for the wealthy. "Could you imagine what it's like to say I got three kids in private school, I have to think about pulling them out? How do you do that?" "It's a disaster," said Ilana Weinstein, chief executive officer of New York-based search firm IDW Group LLC. "The entire construct of compensation has changed."
Poor little lambs.
###
While the Village press keeps presenting Willard as "the moderate" or "the technocrat" or the "sensible" Republican, the candidate himself is giving no indication he's anything of the sort. Check out this completely bizarre exchange in which a wingnut supporter asks Willard if he's going to "come and get my gun."
GUN NUT: There are over 9 million of us in that voting bloc and I just wondered what you're going to do, are you going to allow me to keep my gun, to protect myself and my family, in my home, and not come and get my gun. Because I want to keep it to protect myself and my wife and my family and against a tyrannical government, which I think we're approaching and we are in, very close.

ROMNEY: Thank you, thank you. I believe in the Second Amendment...
For Willard to stand there and thank this loon for saying that the federal government poses a physical threat to him and his family is truly appalling -- a dereliction of duty -- and should instantly disqualify him from the presidency. Seriously. The idea that you need to own a concealed weapon to fight off the FBI and ATF is beyond crazy -- it's black helicopter, Clinton-killed-Vince-Foster, McVeigh-Was-Right crazy.
###
A national correspondent was briefly handcuffed and detained on Tuesday as she was trying to watch Republican presidential candidate Mitt Romney's victory speech. Read More
###
One Million Moms are mad and they will turn this toy store around! "After failing to convince JC Penney to fire Ellen DeGeneres as their spokesperson because she is openly gay, now the American Family Association's group One Million Moms is putting Toys R Us in its crosshairs for selling an Archie comic book that features a same-sex marriage. The group demands that Toys R Us "remove all the same-sex 'Just Married - Archie' comic books immediately from your shelves" before children are "exposed to same-sex marriage." The One Million Moms sample letter to the company ends with the line, "My decision to shop in your stores depends on it.""
###
Andrew Breitbart, who helped take down Anthony Weiner, and was involved in a deceptively edited video that got a U.S.D.A employee fired in 2010, has died at age 43. Also to his credit: several hours after his death, Breitbart called Ted Kennedy a "villain", a "duplicitous bastard", a "prick" and "a special pile of human excrement."; he helped take down ACORN; called the OWS protesters rapists, plus much, much more.
###
REPORT: Despite Cantor's 'Zero Tolerance' Policy, More Than 10 GOP Congressmen Embroiled In Ethics Scandals
###
The Senate will vote today on an amendment by Sen. Roy Blunt (R-MO) that would let any employer drop any health care service to employees for moral reasons. The legislation is a response to President Obama's new contraception law.
###
A federal judge sentenced a former Massey Energy security chief to three years in prison yesterday for obstructing a criminal investigation into the 2010 Upper Big Branch Mine explosion that killed 29 miners.
###
After Deliberating For Three Minutes, Florida Senate Panel Approves Anti-Sharia Bill
###
Who knew there was still a law pertaining to gun purchases left on the books in Virginia? This is the state where everyone gathers around open car trunks to buy assault weapons by the wheelbarrowload in plain daylight, after all. And yet this law, a one-handgun-per-month purchasing restriction, has remained on the books for 19 years, perhaps due to clerical oversight. But now the ladies' man of a governor down there, Bob McDonnell, has signed a repeal of this law in his latest, most patriotic volley in the "Mitt Romney Veepstakes." READ MORE »