Apparently Mayor Bloomberg is now a doctor:
Some of the most common and most powerful prescription painkillers on the market will be restricted sharply in the emergency rooms at New York City's 11 public hospitals, Mayor Michael R. Bloomberg said Thursday in an effort to crack down on what he called a citywide and national epidemic of prescription drug abuse.

Under the new city policy, most public hospital patients will no longer be able to get more than three days' worth of narcotic painkillers like Vicodin and Percocet. Long-acting painkillers, including OxyContin, a familiar remedy for chronic backache and arthritis, as well as Fentanyl patches and methadone, will not be dispensed at all. And lost, stolen or destroyed prescriptions will not be refilled.

City officials said the policy was aimed at reducing the growing dependency on painkillers and preventing excess amounts of drugs from being taken out of medicine chests and sold on the street or abused by teenagers and others who want to get high.

"Abuse of prescription painkillers in our city has increased alarmingly," Mr. Bloomberg said in announcing the new policy at Elmhurst Hospital Center, a public hospital in Queens. Over 250,000 New Yorkers over age 12 are abusing prescription painkillers, he said, leading to rising hospital admissions for overdoses and deaths, Medicare fraud by doctors who write false prescriptions and violent crime like "holdups at neighborhood pharmacies."

But some critics said that poor and uninsured patients sometimes used the emergency room as their primary source of medical care. The restrictions, they said, could deprive doctors in the public hospital system — whose mission it is to treat poor people — of the flexibility that they need to respond to patients.

"Here is my problem with legislative medicine," said Dr. Alex Rosenau, president-elect of the American College of Emergency Physicians and senior vice chairman of emergency medicine at Lehigh Valley Health Network in Eastern Pennsylvania. "It prevents me from being a professional and using my judgment."
When I broke my shoulder, it was eight days from my trip to the emergency room until I saw my specialist who would perform my surgery (and then another week until the surgery was done). If I had been given only three days of painkillers, which five of the eight days it took to see a doctor does Bloomberg think I should have been in excruciating pain?
###
I trust Karen Hughes is on the ground in Georgia, looking for Phil Gingrey with her best German steel sharpened and ready to cut his tongue out, because the former Bush adviser threatened to do just that to the next republican man who even tried to talk about rape.
###
Last year they were "union thugs" according to the Ohio state lege and the governor. This year, they have decided that school janitors need guns. Nothing reactionary going on there, no siree.
###
###
That takes some brass - Alabama just returned Ten-Commandments enthusiast Judge Roy Moore to be the Chief Justice of the Alabama Supreme Court. In November 2003, the Alabama Court of the Judiciary removed Moore from office after he refused to obey a federal court order to remove a Ten Commandments monument that he had placed in the judicial building. (Alabama)
###
Rev. Fishhump tells us that we need high-capacity gun clips to protect us from posses of bad guys. Like priests, and BSA leaders, perhaps?
###
ThinkProgress debunked several of the NRA's lies and distortions about the Obama administrations plan for new gun laws.
###
###
While there are those who chose to focus on cabinet positions while penning their complaints about a lack of a diversity in the Obama Administration, ignoring the president's record on reproductive rights, equal pay, appointments to the Supreme Court, and the existence of those who served during his first term in office, the president is making actual progress without bluster.
During his first term in office, the president appointed a record 72 women to the federal bench, and in six separate instances, he appointed the first woman to a specific post.
President Obama is the first to not select a majority of white males for lifetime appointments on the federal bench. And he has also appointed three openly gay judges, surpassing the Bush record of appointing zero.
This idea that President Obama has a problem with women because the head-count of women in his second term cabinet may not meet a specific quota is short-sighted. But I'm not going to go too deep into it myself, because frankly there are people far more qualified to discuss the topic than me.
Part of why this President has so many more men than women to choose from when filling any post rests in the sexism which continues to mark and harm our society, at each and every level, not least the professional level where women continue to suffer systematic discrimination. And for all that, 43% of Obama appointees have been women. Not to mention that if the GOP had not successfully hounded Susan Rice out of the nomination process last month, we wouldn't even be having this conversation right now — because the optics of a single woman of color would have been magically enough.

I want to see more women in leadership positions. I want to see more women getting better jobs and better pay and better benefits. And (note to the Republican Party) I want to see women treated as human beings, rather than vessels for the next generation and/or lying sluts who spread our legs and cry rape.
If you want to see a shining example of a lack of diversity, that a look at the Republican side of the aisle in congress.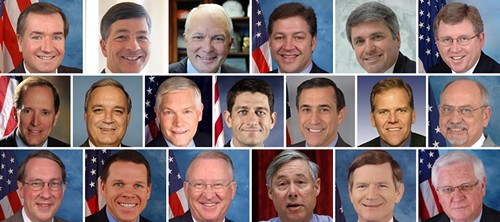 John Boehner wasn't even going to appoint a single woman to a committee chairmanship until the calls to do so reached a crescendo, and after all was said and done he appointed a woman to the House Administration Committee.
Tokenism is the Republicans' game. We should let them play it.
###
During a joint press conference yesterday held by President Obama and Afghanistan President Hamid Karzai, the president announced that thewithdrawal of U.S. troops from Afghanistan is going to accelerate and that combat operations will end in the spring.
During the press conference, President Obama also said that no troops, serving in any role, will remain in the country beyond 2014 if he cannot obtain legal immunity for them. And given that Iraq demanded the authority to prosecute U.S. troops and President Obama refused to give it to them, it seems likely that a similar scenario will play out in Afghanistan.
Based on my own hunch, I believe demanding immunity for U.S. troops, and on the other hand demanding the authority to prosecute them, provides both sides with the political cover needed to have a clean break of the relationship. And I believe that no U.S. troops, not even a minuscule amount, will remain in Afghanistan beyond 2014 for this very reason.
This may transpire differently than it did in Iraq, but I'm not going to get worked up over the idea of a very small number of personnel remaining in the country to serve as advisers.
###
The Grand Canyon is 65 million years older than we thought. 
###
###