###
###
###
Wisco
: GOP incoherent on abortion, contraception
"....The most perplexing part of this whole debate is that so many of the people who oppose abortion seem to go out of their way to make it more necessary. They want to slash funding for anti-poverty programs and make it harder for people to collect unemployment benefits -- both measures that increase the demand for abortion services. But perhaps least rational of all, many oppose contraception and sex education. I'm constantly amazed at how people can house two obviously contradictory ideas in the same skull. Amazed, but a lot less than impressed."

###
###
Bob Cesca: Moment of derp
So I got this green bag right here. And I filled it up with the black market light bulbs. And I brought them back to my office here in the Capitol. Whenever I need to put a bulb in the lamp, I reach in this green bag and I screw it in there and smile. A little bit of my liberty back. A little bit of our freedom back. And I want to challenge you to do the same thing. Bring back some of that liberty, some of that freedom. -Rep. Steve King at CPAC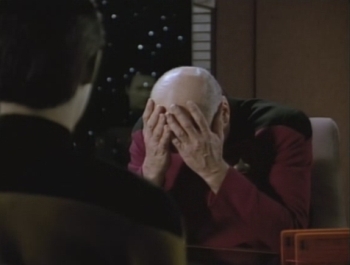 Is this what they mean when they talk about "taking our country back?" "Black market light bulbs" in a green tote-bag? Freedom filaments!
Representative Steve King is of course referring to his life-or-death battle against the Bush Administration's (George Bush signed it into law) tyrannical regime of energy-efficient light bulbs which includes a ban on using incandescent bulbs in government offices. An inescapable horror!
Some things are simply beyond parody. Derp.
###
Socialist Presidents? Who Comes Closer: FDR, Obama, Or Reagan? (Short Answer: Reagan)
###
It's obvious why BP wants a settlement but why would those impacted settle? BP wants nothing more than to have a cap on the payouts so their books and their shareholders can have closure, but for everyone else, there's no reason to think the problems will end just because a settlement is reached. Environmental problems - which impacts the fishing industry along with tourism - is likely continue for decades. If there's a settlement and the money runs out, what happens? Unless there are clauses in the final settlement to take this into account, there should be no reason to settle.
Bloomberg
:
BP Plc (BP/) is negotiating with U.S. officials to settle pollution claims over the 2010 Gulf of Mexico oil spill that may leave the company liable for as much as $17.6 billion in fines, a person familiar with the talks said. The government cited the energy company with violations of the federal Clean Water Act for the offshore spill, the biggest in U.S. history. Officials are seeking fines of as much as $4,300 for each of the 4.1 million barrels spilled after the explosion of the BP-leased Deepwater Horizon oil rig
### 
Syria moving past massacre and approaching genocide. "Activists in Syria say scores of people have been killed in Homs as government forces reportedly shelled the city for a sixth day. The Local Co-ordination Committees, an umbrella opposition group, reported the deaths of 110 people in Homs on Thursday, but said it could not document the names of the victims due to heavy shelling .... Human Rights Watch, the New York-based organisation, said in a report on Thursday that makeshift hospitals in besieged opposition areas of Homs were overflowing with dead and wounded from government bombardments and snipers. Medical supplies are running out and at least three field hospitals have been hit and people are bleeding to death as it is too dangerous for rescuers to bring them to safety, HRW said. The rights watchdog said since the military operation against opposition neighbourhoods was launched on Friday night, government forces have fired hundreds of shells and mortar bombs, killing more than 300 people and wounding hundreds more, including women and children."
###
MoJo's Nick Baumann again does us an invaluable service by pointing out the obvious fact that President Obama's "unprecedented assault on America's religious freedoms" by requiring church-related hospitals and universities to cover contraception at the federal level has actually been on the books for, oh, about 12 years now.
This fight has been long settled based on Title VII law.  Clinton put it on the books on the way out without controversy, and it was on the books for every single day of the Bush 43 administration without controversy.  It was on the books for three years under the Obama administration, without controversy.  Nine out of ten businesses in the country, including religiously affiliated hospitals, schools, and charities, provided contraception coverage.  27 states went on to put similar provisions on their books without incident.
It wasn't an issue at all until an African-American Democrat in the White House decided during an election year that "Hey, this is a good idea, let's put this on the books for all 50 states" just after getting yet another monthly unemployment report that showed that his policies were starting to bring the jobs numbers back around, and that his prospects for re-election were improving along with that uptick on what basically everyone agreed up until that millisecond was the most important issue of the day, the economy itself.
Then, the existing rules of the game for the last dozen years changed literally overnight to fit the theory that the President was "declaring war on Americans' religious freedoms."  Then the rules immediately changed to create "a firestorm of controversy".  Then the rules changed so that people questioned why Catholics in the Obama administration, including the Vice-President and the Secretary of Defense, hadn't resigned in protest yet.
It wasn't an issue until the GOP started openly asking if they were going to lose big in November and Newt Gingrich had melted into babbling radioactive slag and Rick Santorum became the latest Anti-Romney, revealing the fatal weakness of "the frontrunner".
Only now do the god-botherers and the institutional misogynists and the bigots and the pinheads and the weasels have an issue.
###

The Marine Corps is going with the "our guys are really stupid" defense:

The Marines weren't charged with any crime or disciplined because they didn't understand the Nazi connotation and thought "SS" was short for "scout sniper"-- the elite Marine unit in which they serve, said Master Gunnery Sergeant Mark Oliva, a spokesman for the 1st Marine Expeditionary Force.

"They didn't know what the 'SS' stood for," Oliva said. "They had no idea it actually connected them to a Nazi-related organization."
Bullshit.

This is an SS flag:



At least one of those clowns knew exactly what he was doing.
Only now.  They are this desperate to defeat President Obama.
###
Here's how real Democrats reform taxes in response to a budget crisis, by Tanya Somander at Think Progress
###
Seriously, Mitch McConnell??? The projection is...let's just say if we had a gob, it would be smacked black-and-blue. "Senate Minority Leader Mitch McConnell (R-KY) on Thursday painted conservatives as victims of President Barack Obama and other "liberal thugs." ... Speaking at the Conservative Political Action Conference (CPAC), McConnell said he always loved the event "because conservatives are just simply more fun" than liberals. ... "There's a reason for that, by the way," he explained. "It's because we are always right. Now, the reasons liberals are always wringing their hands all the time -- you notice that? They always wring their hands all the time because they know we've got better arguments than they do. So, they spend half their time trying to convince people what's wrong is right, and the other half looking for conservatives to tear down or CPAC conferences to disrupt." ... The Kentucky Republican continued: "You all know the liberal playbook. Here's how it works: Pick a target, freeze it, personalize it and then polarize it. But rarely have we seen those kind of tactics employed with the kind of zeal that we see today. The White House and it's lieutenants have made an art form out of the orchestrated attack. ... You know the drill. Expose the folks to public view, release the liberal thugs on them, and then hope the public pressure or the unwanted attention scares them from supporting similar causes down the road." ... McConnell went on to accuse the Obama administration of using the resources of the government to "intimidate or silence" its critics. ... "The president seems to have forgotten that he was elected to lead all Americans, that he was elected to be president of the United States, not the Occupy Wall Street fan club!" he exclaimed. "I think the leader of the free world has better things to do than to dig through other people's tax returns." ... "At a time when nearly 13 million Americans are looking for a job and can't find one, I think the president of the United States has higher priorities than picking on Fox News!""
###
This is why they call him no one calls him Classy Cal
"In the "closed circuit world on the right," MSNBC's Rachel Maddow is often the subject of ugly denigrations. Whether it's being mocked for her sexual orientation, her name, or even her education, right-wingers can't get enough of slamming her. ... During a political discussion at the Conservative Political Action Conference (CPAC) today, Fox News pundit and conservative columnist Cal Thomas continued the ugliness. After the Heritage's Genevieve Wood played a quote of Maddow eloquently debunking the conservative argument on contraception, Thomas said:
I'm glad that you played the Rachel Maddow clip because I think she is the best argument in favor of her parents using contraception. I would be all for that. And all of the rest of the crowd at MSNBC, too, for that matter.
No one on the panel condemned the comment. "
###
House Financial Services Chair, Rep. Spencer Bachus (R-AL) faces an insider-trading probe by the Office of Congressional Ethics. Bachus received over 44 percent of his campaign donations last quarter from the industries he oversees.
###
Lawmakers in Virginia passed legislation that will allow adoption agencies to deny placement of children based on their religious or moral beliefs, including gay couples in the state. Governor McDonnell has said he will sign it, making Virginia the second state after North Dakota to pass such a law.
###
Scalia: The Soviet Union's Constitution was much better than ours.