###
(Reuters) - A federal judge ruled on Wednesday that Washington state cannot require pharmacists to dispense emergency contraceptives if to do so violates their religious beliefs.
Wow. Religious Pharmacists Have More Birth Control Rights Than Women
###
###
A Wisconsin state representative who supported the state's voter ID law is now be accused of voter fraud himself.
A YouTube video titled "Proof Of Voter Fraud In The Wisconsin State Assembly" shows Republican state Rep. Joel Kleefisch getting out of his chair to electronically cast a vote for a member who was away from the Assembly floor.
Wisconsin state Assembly rule 76 clearly says that "[o]nly the members present in the assembly chamber may vote."
On Wednesday, WTMJ's Rob Koebel asked Kleefisch if he broke that rule.
"It depends on how you interpret the rule," Kleefisch replied. "The rule says you have to be present in the chamber. The bathroom counts as the chamber. And the parlor counts as a chamber if you are going to eat."
It wasn't immediately clear which member Kleefisch had been voting for or if that member had been in the bathroom or parlor at the time.
Democratic state Rep. Jason Fields told Koebel that the practice is common among both Republicans and Democrats.
"Yeah, it's done when you have a conversation with your seat mate to know where they are at," Fields explained.
For his part, Kleefisch dismissed the video as an attempt at character assassination of him and his wife, Lt. Governor Rebecca Kleefisch (R), who is facing a recall election.
"We are targets. My wife is under recall. We are targets," the Oconomowoc Republican said. "He shoots specific video of me when he could have shot 24 to 50 people at that time."
Recall elections for Republican Gov. Scott Walker, Lt. Gov. Rebecca Kleefisch and four state senators appear likely to go forward after a judge recently denied Walker's petition for more time to review recall petitions. Earlier this month, the Government Accountability Board posted online more than 850,000 signed petitions calling for the lieutenant governor's recall.
###
NYT
: Mutated Trout Raise New Concerns Near Mine Sites
###
### 
###
###
###
The transition to Stepford Wife is complete.
Callista is giving up her opinion for Lent. No, I'm not making that up.
Newt may slim down for Super Tuesday. When MSNBC asked him what he is giving up for Lent, the GOP hopeful replied, "I am going to give up desserts... all desserts."

His wife, Callista, who recently made her first solo campaign appearance, is making a sacrifice that may raise eyebrows in the midst of a male-dominated firestorm over women's health issues.

"I am giving up my opinion," she said. She added that she won't be cutting back on McDonald's.
Yup. Kill me now.
###
Allen West, everybody.
Here is the bottom line, last night it took 70 dollars to fill the tank of my 2008 H3 Hummer, what is it costing you? What does it cost the president to fill his gas tank? -Allen West on President Obama's energy policy
My gas-guzzling Hummer only gets 15 more miles per gallon than an M1 Abrams main battle-tank, and it cost me 70 dollars to fill the tank! Obama's fault!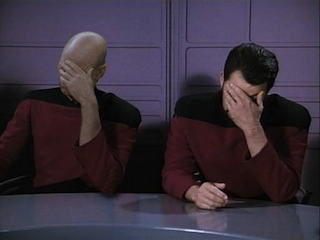 Can Allen West be redistricted out of his seat a little sooner, please?
###
Utah House panel advances no-sex education bill .
####
###
###
Personhood doesn't begin at all -
Well, after the fracas caused by the ultrasonic dildo of slut-shaming, Virginia has decided to put off its Personhood Bill… for now. (
WaPo
)
###
It comes to our attention that we give Ron Paul the short-end of the short stick around here, and so, my fellow incorrigible spitballers, to make up for that oversight, here he is, the good doctor, last night defending The Pill:
But sort of along the line of the pills creating immorality, I don't see it that way. I think the immorality creates the problem of wanting to use the pills. So you don't blame the pills. I think it's sort of like the argument — conservatives use the argument all the time about guns. Guns don't kill, criminals kill. So, in a way, it's the morality of society that we have to deal with. The pill is there and, you know, it contributes, maybe, but the pills can't be blamed for the immorality of our society.

–Ron Paul
So there you have it. Guns don't kill babies, sluts kill babies. Don't blame the gun/Pill, blame the criminal/slut.
So, for those of you progressives who think that Goldbug's sensible position on wars (and it is very sensible) makes him a viable alternative to President Carebear, think again.
Libertarian my pretty pink ass.
###
Ted Frier: Are Conservatives hypocrites by nature?
####
Bradley Manning, the 24-year-old US Army private who was accused of providing WikiLeaks with field reports from Iraq and Afghanistan and thousands of pages of diplomatic cables, has been formally charged with aiding the enemy, a crime punishable by life imprisonment. Manning has been jailed since May 2010.
###
Sen. Bill Nelson Uses Six Cows To Avoid Tens Of Thousands Of Dollars In Property Taxes
### 
Wonkette: Wingnuts Protest in D.C. For Right To Feed Healthy Food To Kids, What?
###
Wonkette: Congressman Realizes He Can Just Shoot People Who Get In His Way
###