###
Patenting seeds has led to a farming and food crisis - and huge profits for US biotechnology corporations.
###
"My husband can't fucking throw the ball and catch the ball at the same time." Tom Brady's wife 
Link
House GOP Memo: "Abortion Is the Leading Cause of Death in the Black Community"
As civil unrest intensifies, the United States has closed its Syrian embassy and ordered diplomats to leave the country.
From the department of "you can't make this shit up."
The Office of Congressional Ethics (OCE) has found that Representative Vern Buchanan (R-Derp) has failed to disclose 17 sources of income on his financial disclosure forms.
Rep. Vern Buchanan (R-FL) failed to disclose income on his disclosure forms and didnt report 17 positions he held at various companies and organizations from 2007 through 2010, according to an Office of Congressional Ethics (OCE) report released Monday.

The report was issued to the House Ethics Committee on Nov. 8 but disclosed publicly on Monday. The House Ethics Committee said in a statement that it had decided to "gather additional information necessary to complete its review." [...]

Buchanan has been under an ethics cloud in recent months and is currently the subject of several ongoing investigations involving his finances and alleged violations of campaign finance law. His campaign claimed a Federal Election Commission report had exonerated him of the later allegations, but the FEC general counsel report actually said that several of his statements were not credible.
Vern Buchanan is the finance chairman for the National Republican Congressional Committee (NRCC).
The finance chairman can't even report his own finances correctly!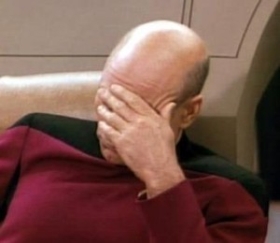 Vern is also still under investigation by the Department of Justice for allegedly reimbursing the employees of his former car dealership for donating to his campaign.
You're doing great, Republicans!
###
Mario: "We the Rich"
###
###
Margaret and Helen: Pink Razors
###
From Republican Report: This morning, Republic Report published a post revealing the backers of an anti-union ad that ran during the Super Bowl. We realized after publication that one of the actors playing a disgruntled union mechanic was actually Rick Berman, the consultant advising the anti-union lobbying campaign. A call to Berman and Company confirmed that Berman, who owns a $3.3 million dollar house and is known for his elaborate astroturf campaigns on behalf of big corporations, played the part of a mechanic in the ad.
###
Gingrich spokesman constantly fiddling with Newt's Wikipedia page
The number one reason nobody likes pedantic swamp bubble Newt Gingrich is because of all the horrible things they are reading about him on his Wikipedia page, obviously. Why else would Newt campaign spokesman Joe DeSantis spend so much time glued to his computer belaboring minor edits to Newt and Callista's Wikipedia entries that even CNN finally bothered to notice and make fun of it? READ MORE »
###
Of course, Karl Rove and the rest of the Right Wing Outrage Machine took that to be political. Probably because they were pushing back in 2008 and 2009 to take Chrysler (and GM) into Chapter 7 and dismember both companies,
[1]
throwing millions of more people out of work.
[2]
That didn't happen because two American presidents
[3]
stood up to the Randistas and called "bullshit" on a cabal of fools who were willing to destroy a major chunk of this country's industrial base, just because their ideology
[4]
told them to.
What Clint Eastwood had to say was this:
"There is no spin in that ad. On this I am certain. l am certainly not politically affiliated with Mr. Obama. It was meant to be a message about just about job growth and the spirit of America. I think all politicians will agree with it. I thought the spirit was OK."
Do these douchebags really want to make the election a contest between people who are rooting for American industry and assholes who want it to fail? They probably don't, they just can't help themselves.
###
The Indoor Tanning Industry's political action committee has contributed $5,000 House Speaker John Boehner's (R-OH) campaign account and another $5,000 to the National Republican Congressional Campaign's Boehner for Speaker Committee.
The trade association "actively lobbies against legislation that would place unfair restrictions on salon businesses." Boehner no doubt earned the group's gratitude with his staunch opposition to inclusion of tanning salon taxes in the Affordable Care Act.
Ironically, Sen. John McCain (R-AZ), who famously tweeted to Jersey Shore star Nicole "Snooki" Polizzi that he would not tax her tanning bed received no contributions from the PAC this cycle or last. (HT: @lukerosiak)
###
As the bankrolls of GOP-aligned Super PACs continue to grow, President Obama's campaign announced that it will no longer oppose the use of Super PAC funding to aid the reelection bid. Obama made the decision reluctantly and simultaneously announced that he supports a constitutional amendment to overturn Citizens United.
###
A new Washington Post investigation shows Sen. Richard Shelby (R-AL) directed more than $100 million in federal earmarks to renovate downtown Tuscaloosa near his own commercial office building, Rep. Jack Kingston (R-GA) got $6.3 million in taxpayer dollars to fix-up the beach next to his island vacation home — two examples of how Congressional earmarks have been used to fund projects near lawmakers' properties.
###
Daniel Radcliffe told a British magazine that he is "disgusted, amazed, stunned" by the candidates, especially on gay rights. "But they disgusted me less than candidates like Rick Perry, who made that ridiculous advert wearing 'the Brokeback jacket," he said.
###
Santorum Longs For Good Old Days Of 'Shadow Abortions' When Women Obtained Back-Alley Procedures
###
The Asian Lady In Pete Hoekstra's Ad Was Named 'Yellow Girl'
###
What can America ever do to make it up to Michele Bachmann? She gave up the ghost on her presidential aspirations (THIS TIME) after voters in Iowa ditched her for a robot, a frog, a sweater vest, and a belt with an onion tied to it. Wouldn't you take this insult to your grave? Bachmann certainly intends to, sure as you're born, since by her own admission, "America had their chance with the perfect candidate," i.e., Michele Bachmann. READ MORE »
###
Oh, so the war in Afghanistan is supposed to end soon-ish, like next year, maybe? Sure, we've done a pretty good job leaving that country on the brink of yet another horrifying civil war, NEXT. It is now Iran's turn to be liberationed! Forty-nine percent of Americans, which for you statistically-minded folk means "probably at least one or even multiple people that you know," believes the United States should start a preemptive war with Iran despite otherwise appearing in possession of the requisite faculties to breathe, eat, take a shit and respond to basic questions from a pollster that should denote sentience. Kind of weird, right!? Also weird: Americans felt as recently as November of last year (by a two-to-one margin) that other famed preemptive war "the Iraq thing" was a really awful waste of human life, money, human life, human life, time, etc. But HELLO, it is February 2012 already, and the troops are home since December! Which means it is time to send them all back out again. READ MORE »
###
John Fleming (R-Idiot) fell for a nine-month-old hilarious article in The Onion which touted the grand-opening of an Abortionplex:

TOPEKA

, KS—Planned Parenthood announced Tuesday the grand opening of its long-planned $8 billion Abortionplex, a sprawling abortion facility that will allow the organization to terminate unborn lives with an efficiency never before thought possible. Read the rest of this post »