Andy Borowitz: "
The best form of birth control is looking at congressional Republicans discussing birth control."
###
###
Not one Vagina-American sitting on this panel... 
Here's the panel that testified before Congress about the Administration's contraception rules.
The U.S. and Afghan governments have begun secret three-way talks with the Taliban, Afghan President Hamid Karzai told The Wall Street Journal, in a move that could bolster U.S.-led efforts to convene fully fledged peace talks within months.
###
###
The Dow Jones closed today at its highest level since May of 2008, and the Nasdaq closed at its highest level since December 2000 during the last days of the Clinton Administration.
If we are indeed living under the tyranny of socialism as the Right Wing would have you believe, perhaps socialism isn't so bad!
According to Mitch McConnell, we're living under "the Obama economy." Woops!
I knew he would regret saying that at some point.
###
Bob Cesca: The war on women is backfiring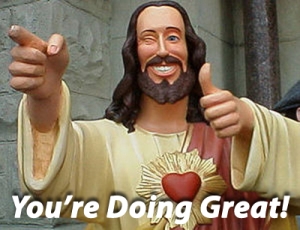 ###
On "Fox & Friends" this morning, Brian Kilmeade noted that good economic news matters a great deal when it comes to the president's fortunes, but only "if you believe these numbers."

A minute later, Gretchen Carlson added, "Unemployment has gone down, more jobs have been created. Now, you can argue about how those numbers, some people say they've been fabricated."
So we've reached this point. Actual evidence is dismissed as a conspiracy theory. I suppose the DJIA and the GDP is just a plot by President Obama's Muslim sleeper cell. Whoops! I said it! Now Gretchen Carlson can legitimately say "some people say" — as in me — instead of simply making it up.
###
TEXAS: Anti-Gay Radio Host Accused Of Hit & Run After Leaving Houston Drag Show
Conservative talk radio host Michael Berry
has been accused
of leaving the scene of a fender bender after departing a drag show he attended at a popular Houston gay bar. Berry is known for ranting against same-sex marriage and related LGBT issues.
Local 2 Investigates e-mailed Berry for his response to the hit-and-run allegations and the videotape showing him inside the club during that drag show, and Berry replied, "I don't respond to such things." Houston police said the hit-and-run was still under investigation, adding that Berry was not listed as being charged with a crime at this point. If additional witnesses are found, or if prosecutors change their minds about the video and the witness account, Berry could be charged with a misdemeanor crime of Failure to Stop and Give Information (FSGI).

The victim told Local 2 Investigates he believes the conservative activist is trying to avoid the issue entirely because of his public stances involving gay people. "If you're going to stand up and say anti-gay things and be conservative and be Mr. Good Guy, and then when something happens that points you out and puts you in a place with the exact business that you aim to shut down, it kind of makes it seem like I need this to go away and I need it to go away quickly," said Bennett.
###
####
Republicans have a little bit of a problem. It's often the case that what's good for America is bad for Republicans and the economy is not an exception to this rule.
MarketWatch:

Weekly jobless claims in the U.S. fell by 13,000 to a seasonally adjusted 348,000 in the week ended Feb. 11, the Labor Department said Thursday. That's the lowest level since March 2008, when the U.S. was in the early stages of a recession. Economists surveyed by MarketWatch estimated claims would total 368,000. Claims from two weeks ago were revised up to 361,000 from 358,000. The four-week average of claims, meanwhile, fell by a smaller 1,750 to 365,250, keeping it near a four-year low.
"In terms of metrics, keep in mind, when these jobless claims fall below the 400,000 threshold, it's considered evidence of an improving jobs landscape. When the number drops below 370,000, it suggests jobs are actually being created rather quickly," explains Steve Benen. "We've now dropped below 370,000 for two consecutive weeks, and three of the last five weeks." He also helpfully supplies a chart of what this drop looks like:

So much for the "failed stimulus" line. It wasn't big enough to turn things around quickly, but it was big enough to turn things around. Betting against America turned out to be a lousy wager and now Republicans are taking a bath...[CLICK TO READ FULL POST]
###
###
###
MSNBC dropped conservative commentator Pat Buchanan on Thursday, four months after suspending him following the publication of his latest book.  The book "Suicide of a Superpower" contained chapters titled "The End of White America" and "The Death of Christian America." Critics called the book racist, anti-Semitic and homophobic, charges Buchanan denied.
###
###
GOP justification for state-sanctioned rape in Virginia

Apparently, once vaginally-penetrated, always vaginally-penetrated:

During the floor debate on Tuesday, Del. C. Todd Gilbert announced that "in the vast majority of these cases, these [abortions] are matters of lifestyle convenience." (He has since apologized.) Virginia Democrat Rep. David Englin, who opposes the bill, has said Gilbert's statement "is in line with previous Republican comments on the issue," recalling one conversation with a

GOP

lawmaker who told him that women had already made the decision to be "vaginally penetrated when they got pregnant." (I confirmed with Englin that this quote was accurate.)

So ladies, if you've ever had sex, used a sex toy, or even used a fucking tampon, then you've given up the right not to have the government shove a foreign object into your vagina.
Welcome to the 18th 21st century.
###
NH's Rep. Notter Claims Birth Control Causes Prostate Cancer
###
Rep. Fred Upton (R-Mich), a leading

GOP

critic of the Obama administration's loans to Solyndra, pressed the Energy Department in 2009 to back a Michigan solar firm that filed for bankruptcy this week.

In a Dec. 2009 letter to Energy Secretary Steven Chu, Upton and the rest of the Michigan delegation pressed the department to issue loan guarantees for a slew of energy projects. Included on the list was United Solar Ovonic, which was seeking a taxpayer-backed loan guarantee to produce rooftop solar panels.

"We believe these applications are worthy of serious consideration by the Energy Department," the Michigan lawmakers wrote in the letter.

Upton's letter underscores the fact that Republicans, many of whom have pummeled the administration over the Solyndra controversy, pressed the Energy Department to back clean-energy projects in their home states.
Does this surprise anyone?
###
Peter Rothberg at The Nation: OneOne of the many terrible ironies of the climate change crisis is that the nations that have contributed the least to the problem are the ones who are now on the frontlines working hardest to prevent consequent disasters.
###
GM Defends Contributions To 'Careful And Considerate' Climate Denier Institute
###
Gingrich bus breaks down in West Hollywood, everyone laughs
Newt Gingrich is out in Los Angeles scrubbing a few rich peoples' toilets with his tongue, for their amusement, in order to lock down whatever fat-cat money's still out there. He got into town yesterday and what happens, of course, the bus gets a flat tire — in West Hollywood, where a great many homosexuals partake in social activity, according to Internet articles. Did these friendly gay Hollywood liberals help him? Eh, not so much. READ MORE »