".... In this Presidential election year, the right-wing of the Republican party (and every GOP Presidential candidate) have offered nothing but dangerous pandering to the most hate-filled members of society."
Pigs.
###
###
###
The world's largest Christian television network, Trinity Broadcasting, has been accused of
funneling $50 million
in viewer donations to the company's directors. Freak show televangelists Paul and Jan Crouch (above) are the global faces of the network.
The charges are leveled in a federal lawsuit filed by Crouch granddaughter Brittany Koper last week against her former lawyers, who also do legal work for TBN. "Observers have often wondered how the Crouches can afford multiple mansions on both coasts, a $50 million jet and chauffeurs," said Tymothy MacLeod, Koper's attorney. "And finally, with the CFO coming forward, we have answers to those questions." Koper had served as chief financial officer, director of finance, corporate treasurer and director of human resources for Trinity Christian Center of Santa Ana, which does business as Trinity Broadcasting Network, according to the suit. Koper's complaint is not directed against her grandparents or TBN – but against the two attorneys who handle some TBN legal work, and who once worked for Koper herself. She accuses them of professional negligence, breach of fiduciary duty and other transgressions in the suit.
RELATED:
In 2010 Paul Crouch Jr., the son of the network's founder, was forced to settle a
sexual harassment suit
filed by a gay male employee who claimed that Crouch had taunted him with female pornography and had told co-workers that he has a "mangina." The details of that settlement were not made public. In 1994 the network
paid a settlement
of $425,000 to a man who claimed that he was forced have sex with Paul Crouch, Sr. in order to keep his job.
###
### 
President Obama is visiting Scottwalkerstan today, which may be considered ground zero in the war against unions and, not surprisingly, Governor Walker has decided not to accompany the president on his tour of a union-backed factory he name dropped in the State of the Union.
There has been a change of plans in today's meeting between President Obama, who is visiting Wisconsin to promote his economic policies, and the state's conservative star Gov. Scott Walker.

Walker's office has confirmed that due to a stomach flu, Walker will no longer accompany Obama on a tour of the local Master Lock factory, at which Obama is scheduled to speak in the afternoon. [...]

Obama name-dropped Master Lock in his State of the Union address in January, as an example of jobs coming back to America — and unionized jobs, at that.
Walker may or may not be sick, but if you truly believe that is the reason for his absence, I have some doomsday insurance to sell you.
Ironically, going on a tour with the president would probably increase Walker's overall approval rating, but he can't because he knows he will be the most hated person in the room and will be protested and booed.
###
Well, more like poll results in chart form. More verification that Americans would rather cut defense spending than Medicare, Medicaid, Social Security and food stamps.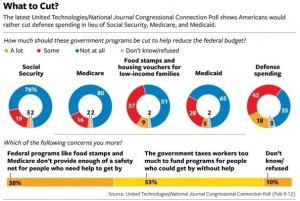 Click to enlarge.
Not sure why food stamps are less popular — oh wait. Southern Strategy race-baiting demagoguery, etc, etc. Yes, that, even though more whites are on food stamps, but whatever.
###
Chez wrote a fantastic item for the Huffington Post yesterday calling upon CNN to fire Nancy Grace. In case you're not aware, Grace suggested on her show that Whitney Houston might have been murdered. Yes, murdered. Drowned.
Here's what she said:
"I'd like to know who was around her, who, if anyone gave her drugs…and who let her slip, or pushed her, underneath that water?" she said. "Apparently, no signs of force or trauma to the body. Who let Whitney Houston go under her water?"

"Might it have been one person, might it have been multiple people, all excellent questions," Baldwin said. "Again, we don't know the cause of her death."
Yeah.
CNN absolutely must fire this irresponsible tabloid nitwit.
###
###
Raise your hand if you think Romney now regrets his bashing of the auto bailout. The Wall Street bailout was all about continuing the lifestyle of the 1% but the Big Auto bailout was about rescuing a state and the 99%. It may have been expensive, but people have jobs, which means tax dollars. Why are the GOP presidential candidates so offended by the middle class having jobs?
ABC News
###
Mark Thompson
uncovers the truth
behind the story about the little girl "forced" by "state agents" to eat chicken nuggets instead of her packed lunch
So before we all go crazy talking about how awful the nanny state is to make this poor little girl eat chicken nuggets instead of her sack lunch, let's all take a deep breath and, I dunno, spend some time researching the facts. I love a good knee-jerk reaction as much as the next guy, but when something sounds too awful to be true, chances are it is. With the very real problems in, say, our criminal justice system – no-knock raids, innocent people on death row, overfilled prisons, and so on and so forth, spending any time at all on this non-troversy is a waste of precious digital ink.
###
Good ol' West Texas Intermediate has been hanging around the $100 a barrel mark for quite some time now, but the real issue is gasoline prices have hit the $3.50 average well before the summer driving season.  What's driving the price up?  It sure as hell isn't demand.

Strangely, the current run-up in prices comes despite sinking demand in the U.S. "Petrol demand is as low as it's been since April 1997," says Tom Kloza, chief oil analyst for the Oil Price Information Service. "People are properly puzzled by the fact that we're using less gas than we have in years, yet we're paying more."

Kloza believes much of the increase is due to speculative money that's flowed into gasoline futures contracts since the beginning of the year, mostly from hedge funds and large money managers. "We've seen about $11 billion of speculative money come in on the long side of gas futures," he says. "Each of the last three weeks we've seen a record net long position being taken."

Somebody's making huge bets that gas prices are going to be through the roof, so much so that hey, gas prices are going through the roof.  Record  long futures this early in the year when demand is at a 15-year low seems like a lousy bet on paper, but a lot of people are betting a lot of money that the country will have to deal with $4.50 a gallon soon.  And lo and behold, up goes both crude and gas as the long money becomes a self-fulfilling prophecy.  All canoodling aside in the Straits of Hormuz, this is very much looking like what happened in 2008.
Funny how that works.
###
More red states than blue.
###
The sonic dildo of shame
Charles Pierce