###

Macho shithead rocker Ted Nugent agrees to pay a $10,000 fine and accept two years probation for
illegally killing
an Alaskan black bear during the filming of an episode for his hunting reality show. He also has to film a PSA about hunting. 
Perhaps he can also do an anti-pedophilia public service announcement about not having sexual relations with underage girls (even if you adopt them for that purpose while you're still married).
And one about not threatening the President.
Or shooting an arrow at the likeness of a "scrotumless" sitting female Governor.
Or messing your drawers for a week to avoid military service.
It could be a whole series.
###
Charles W. Colson, who as a political saboteur for President Richard M. Nixon masterminded some of the dirty tricks that led to the president's downfall, then emerged from prison to become an important evangelical leader, saying he had been "born again," died on Saturday. He was 80…
Mr. Colson was sent to prison after pleading guilty to obstructing justice in one of the criminal plots that undid the Nixon administration. After having what he called his religious awakening behind bars, he spent much of the rest of his life ministering to prisoners, preaching the Gospels and forging a coalition of Republican politicians, evangelical church leaders and Roman Catholic conservatives that has had a pronounced influence on American politics…
Few played political hardball more fiercely than Mr. Colson. When a deluded janitor from Milwaukee shot Gov. George C. Wallace of Alabama on the presidential campaign trail in Maryland in May 1972, Nixon asked about the suspect's politics. Mr. Colson replied, "Well, he's going to be a left-winger by the time we get through." He proposed a political frame-up: planting leftist pamphlets in the would-be killer's apartment. "Good," the president said, as recorded on a White House tape. "Keep at that." ...
In 2000, Mr. Colson was a resident of Florida when Gov. Jeb Bush restored his rights to practice law, vote and serve on a jury — all of them having been lost with his federal felony conviction. "I think it's time to move on," Mr. Bush said at the time. "I know him. He's a great guy."
With that, Mr. Colson re-entered the political arena. In January 2001, six days after President George W. Bush's inauguration, a Wall Street Journal editorial praised Mr. Colson's prison work as "a model for Bush's ideas about faith-based funding."...
Colson was the co-author of the
Manhattan Declaration
, a landmark anti-gay document whose Christian signers pledge to willfully disobey laws regarding same-sex marriage.
###
###
###
If you make assassination threats against the commander-in-chief of the U.S. military, you should probably expect that you won't be invited to perform for the military.
After catching the Secret Service's attention with some inflammatory remarks about President Barack Obama, Ted Nugent has been removed from a concert lineup at a prominent military base.

Fort Knox's June 23rd concert was originally scheduled to have Nugent as the headliner. On Tuesday, Nugent said that he would be "dead or in jail by this time next year" if President Barack Obama is re-elected." Forty-eight hours later, changes to the concert lineup were in the works.
And regarding this context, it doesn't hurt to point out how Ted Nugent avoided the Vietnam draft. Hint: it involves meth and poop.
###
No one is donating to Mitt Romney.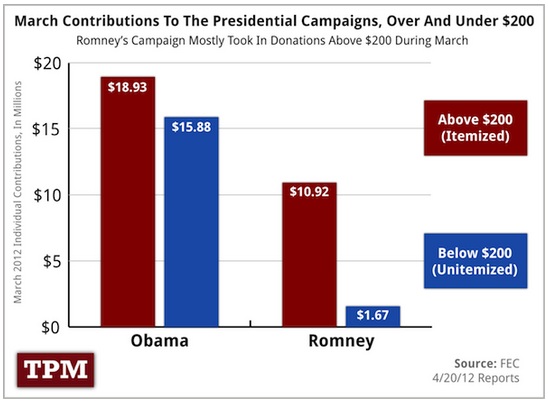 The unitemized donations are donations made by people like you and I who typically give anywhere from 5 to 25 dollars at a time, and they only account for roughly 13 percent of Romney's haul.
The Obama campaign had $102 million on hand at the end of March. The Romney campaign had $10 million.
One reason, among many, for the discrepancy in total cash on-hand is the amount of money that is being poured into Karl Rove's Crossroad PAC.
###
Earlier this week Jerry Falwell's Liberty University announced that Mitt Romney would speak at this year's commencement and, just as predicted, students at the arch-Christian academy are not unanimously in favor of the idea because they don't consider Mormons to be "real" Christians.
Liberty University students and alumni are accusing the Christian school of violating its own teachings by asking Republican presidential candidate Mitt Romney, a member of the Church of Jesus Christ of Latter-day Saints whose adherents are called Mormons, to deliver its 2012 commencement address.

By Friday morning, more than 700 comments had been posted on the school's Facebook page about the Thursday announcement – a majority of them decidedly against the Chancellor Jerry Falwell Jr.'s invitation, citing that the school had taught them Mormonism isn't part of the Christian faith.

"I can't support Romney and I am happy I decided not to walk (in the commencement) this year," wrote student Josh Bergmann. "Liberty University should have gotten a Christian to speak not someone who practices a cult. Shame on you Liberty University."

Janet Loeffler, a 53-year-old freshman at Liberty, expressed her anger at the decision when contacted by CNN. She also sent a copy of the page of the freshman textbook "The Popular Encyclopedia of Apologetics" which includes the passage, "Mormon doctrine stands in stark contrast to Jewish and Christian monotheism, which teaches that there is only one true God and that every other 'God' is a false god."
This is the part where the aspiring Christians of Liberty University realize that they've been played by their elders who are not at all concerned about Romney's religion.
They're only concerned with money and power, and Mitt Romney is perhaps better suited than anyone to deliver the gospel of free-markets and white privilege. To pervert religion for the purposes of attaining more money and power.
###
30 of the Fortune 500 companies paid no taxes from 2008-2010
###
Sen. Oral Snatch (R-UT) will now face a Republican primary in his bid for a seventh term, following a vote of delegates at the state GOP convention, after having received a majority that fell just short of the 60 percent needed to win his nomination outright.
###
###