###
Why do our elites and media elites have such sheer contempt and hatred for social security?  It's there for everyone! It's a solid government program which gives everyone the peace of mind that no matter what, there will be some money available for you to take care of yourself in your most vulnerable years. It's such a miniscule portion of the taxes we pay, and for the ultra-rich screamers who hate social security the most, it's a negligible portion of their income, and it's capped! It's not money wasted on fraud and abuse, it's extremely efficient with the kind of overhead any charity or organization in the world would die to achieve, and it's just an amazing program.
I'd argue that social security also helps innovation and entrepreneurship, because people can take wild risks opening businesses and if everything fails, they still will have the peace of mind to know that some of their most basic needs will be met due to their participation in the program.
There are a lot of things I can understand people getting mad about (I may not agree with them, but I can understand it), but this program simply is not one of them. Yet social security is under constant assault, with ridiculous amounts of hand-wringing and lying about the program. It's insane.
###
Pat Robertson counsels a man on the air and tells him "you're the boss." If women object, presumably the next tornado or terrorist attack or blizzard or flood will be the fault of uppity sluts who don't know their place.
###
By all means, throw the book at him! We can't be standing for voter fraud in this country! It seems apparent to us that about 90% of the voter fraud that actually goes on in this country is committed by operatives from James O'Keefe's Project Veritas trying to get smoking gun video or this rampant solution that is frantically searching for a problem like a character from Requiem for a Dream.
###
This just keeps getting more bizarre. George Zimmerman has launched a website to raise money for his legal defense fund. Seriously.
###
Fossilized raindrops tell the tale of earth's early climate "A technique that uses fossilized raindrops to work out what the air pressure on Earth was billions of years ago has been used for the first time by scientists in the US. By analysing the shapes and sizes of raindrop imprints in volcanic ash, the team has shown that the atmospheric pressure in the Archaean eon was roughly the same as it is today. This is at odds with a popular theory of how the Earth stayed warm enough for life to exist at the time. ... Billions of years ago, the Sun was about 20% dimmer than today because a star burns hydrogen more slowly earlier in its fusion cycle. There would therefore have been less radiation reaching the Earth and the surface should have been frozen. However, there is ample evidence of liquid water at the time as well as very primitive forms of life - a mystery known as the "Faint Young Sun" paradox. ... Most scientists agree that the Earth must have been able to retain more heat in the past - but the reason why remains controversial. One explanation, proposed in 2009, is that atmospheric pressure was many times today's figure, causing pressure-broadening, whereby nitrogen and carbon dioxide become more efficient greenhouse gases at higher pressures."
###
South Carolina Gov. Nikki Haley (R) defended her party against charges of a "war on women," saying on Fox News' "The O'Reilly Factor" last night that women are "doing well":
HALEY: This is a president that is trying to create distractions. There is no war on women. Women are doing well.
One has to wonder about Haley's definition of "well." Women accounted for the entire drop in labor force participation during the recession, and 88 percent of jobs created since the end of the recession went to men. In Haley's state of South Carolina, women are paid just 76 cents for every dollar a man makes, and own just 28 percent of businesses, despite making up slightly more than half of the state's population. As with the nation as a whole, women also face higher poverty rates in the state, with 19 percent below the poverty line, compared to 15 percent of men.
"If you don't feel this is an attack [on women], you need to go home and talk to your wife and your daughters," Sen. Lisa Murkowski (R-AK) said after Republican lawmakers spent months (and years) aggressively attacking women's access to contraception and right to chose.
Haley, a key Mitt Romney surrogate, has become her party's face in responding to charges of the war on women. But she'll likely need a better counter-narrative than woman are doing just fine, as Romney appears to be hemorrhaging female support. A new Washington Post/ABC News poll out this morning shows him trailing Obama by 19 points among women.
###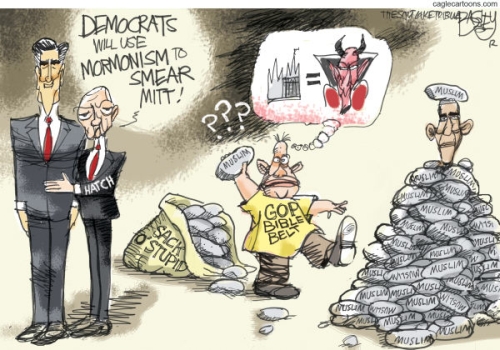 ###
The U.S. deployed a second aircraft carrier to the Persian Gulf as tensions with Iran escalate. It "marks only the fourth time in the past decade that the Navy has had two aircraft carriers operating at the same time in the Persian Gulf."
###
Tucker Carlson's Daily Caller has a SCOOP you guys! Someone in the Zimmerman family wrote a letter to Attorney General Eric Holder, explaining they are not racist and saying the only reason Eric Holder hasn't arrested the New Black Panther Party is because Eric Holder is black, and all blacks are always sticking together and doing other black things (probably mostly murdering white people, conspiring against white people, hate-criming white people and stealing stuff). Plus, did you know Marion Barry said some shitty stuff about Asian people? It's true, he totally did that! Marion Barry sucks, so probably all other black people do too, it's just science.READ MORE »
###
###
Damn you science, with your proven liberal bias!
[N]ow there's the new study linking conservative ideologies to "low-effort" thinking.

"People endorse conservative ideology more when they have to give a first or fast response," the study's lead author, University of Arkansas psychologist Dr. Scott Eidelman, said in a written statement released by the university.

Does the finding suggest that conservatives are lazy thinkers?

"Not quite," Dr. Eidelman told The Huffington Post in an email. "Our research shows that low-effort thought promotes political conservatism, not that political conservatives use low-effort thinking."
Being stupid and inbred helps.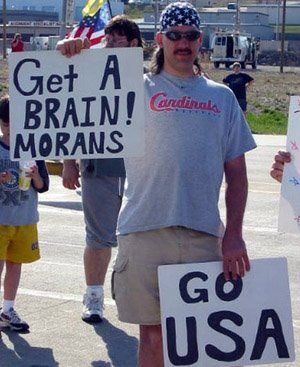 ###
Meteorologists say they are alarmed.
It has been so warm in the United States this year, especially in March, that national records were not just broken, they were deep-fried. Temperatures in the lower 48 states were 8.6 degrees above normal for March and 6 degrees higher than average for the first three months of the year, according to calculations by the National Oceanic and Atmospheric Administration. That far exceeds the old records. "Everybody has this uneasy feeling. This is weird. This is not good," said Jerry Meehl, a climate scientist who specializes in extreme weather at the National Center for Atmospheric Research in Boulder, Colorado.
More disturbing stats:
The first quarter of 2012 broke the January-March record by 1.4 degrees. Usually records are broken by just one- or two-tenths of a degree. U.S. temperature records date from 1895. The atypical heat goes back even further. The summer of 2011 was the second warmest summer on record. The winter that just ended, which in some places was called the year without winter, was the fourth warmest on record. Since last April, it has been the hottest 12-month stretch on record.

###
###
Always good news when Limbaugh loses an affiliate in a major market.
Philadelphia CBS affiliate WPHT will no longer broadcast Rush Limbaugh's show, replacing the hate radio host with the far more moderate talker Michael Smerconish.
Philadelphia dittoheads will have to drive closer to Reading in order to hear Limbaugh on my old employer, WEEU 830AM. They should drop him, too.
###